Meet the orangutans, spot the proboscis monkey and indulge in some exotic Malaysian cuisine in the wetlands of Borneo, Malaysia.
The rainforests of Sarawak that lie in Borneo are famous for their Orangutans. But only if you are lucky, will you spot them. My guide Norlin tells me that I have to be lucky to see an Orangutan, even if it's at The Semenggoh Nature Reserve, which is about 45 minutes away from Kuching, the capital. Sometimes, the apes just do not make an appearance, even for food.
We walk into the Reserve which is a part of the forest, making sure that we don't trip on the thick roots under our shoes, the dense vegetation makes our path shaded. After about 10 minutes, we reach a clearing in the forest where a group of visitors are waiting for the apes. I look up at the branches above me, that are more than 50 feet high, as I sense some swinging action. So we are all quiet, cell phones on silent mode, cameras ready but no  ash – and I get lucky! They come along – a family of three orangutans, swinging along branches and ropes like ace gymnasts, arriving for their day's feed of coconuts and bananas. Watching them is an experience like no other – they look so gentle. They are a species that is closest to humankind sharing 97 percent of the same DNA.
The baby doesn't leave the mother, while the father is very much interested in what's on offer by the Feeder (extremely experienced staff whom the apes recognise). After having their fill, the mother and child swing up together, and the father follows.
The Ranger informs us that sometime the apes don't come to eat! This only means that the forest has given them their share of fruits, thus disappointing the tourists.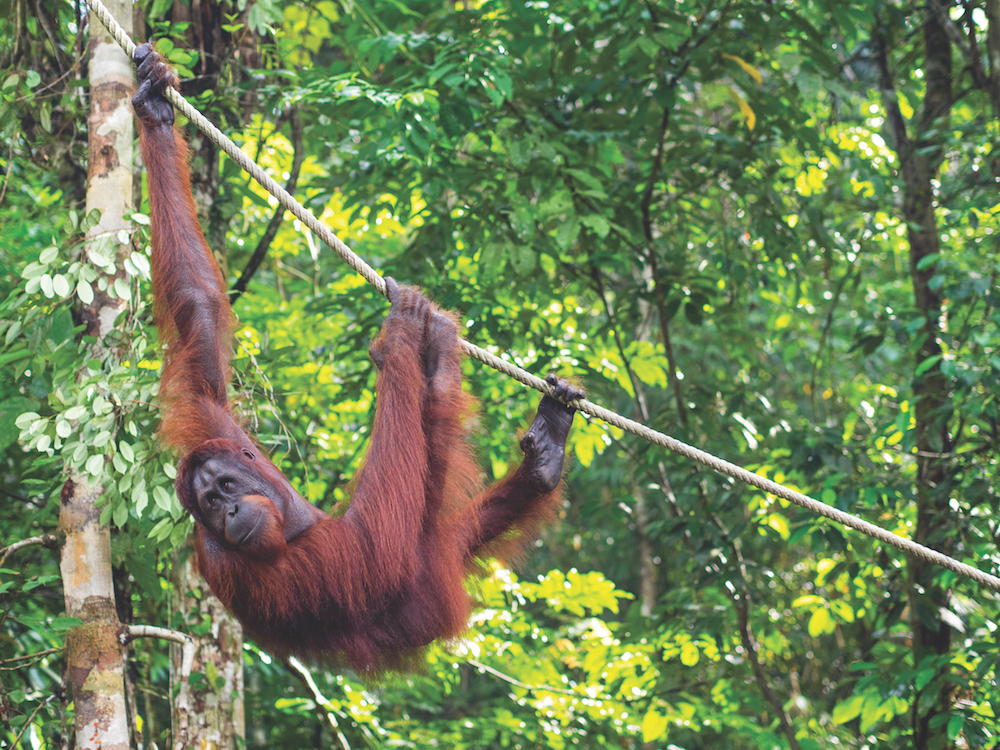 The Semenggoh Nature reserve in the rainforests of Sarawak, Malaysia is home to rescued orangutans, from 60-year-olds to six-month-olds, each of them with their own birth certificates. Most of these apes have been found deserted by their parents, or orphans, or just injured in the forests. The apes are nurtured in the reserve for seven years, before they are released in the wild. A visit to the information centre is enriching. It has the birth certificates and details of all the orangutans that are under its care.
Kuching is the capital of the Sarawak region that lies in Borneo. The northern part of Borneo, which is third largest island in the world, is part of Malaysia. Borneo is a large island which comprises the Malay Archipelago – states of Sabah and Sarawak, Indonesian Kalimantan and the tiny nation of Brunei.
It takes close to two hours to reach Kuching by flight from Kuala Lumpur and as we approach Kuching, the aeroplane flies over the bright blue azure sea that has some totally uninhabited islands with a little bit of sand on the border. Kuching has a good mix of rainforests, beaches and wildlife.
DAMAI BEACH AND KUCHING WETLANDS NATIONAL PARK
Situated about 45 minutes away from Kuching, we drove on beautiful wide roads with greenery all around to reach Damai beach. We cross the Santubong river, with the rainforest mountain on which sits a cloud like a crown, locals say that its outline looks like the face of a woman. The Permai Resort is situated bang on the beach, at the foot of Mount Santubong, an extremely eco-friendly resort. The resort offers a three-hour cruise into the river, a part of the Kuching wetlands National park, to watch the Irravady dolphin, marine life, crocodiles and if you are lucky, the proboscis monkey can be spotted on one of the islands! We start off in a modern boat into the calm waters, and watch the majestic mountain get further and further away from us as we get deeper into the waters. Our guide, Freddy tells us we are at a depth of 100 metres, not to worry as we have life jackets on!
We stop a bit away from a lone fishing boat, which is an attraction for the dolphin as he comes up to only to dive below when the fisherman throws in a fish for him. Seagulls fly over the fishing boat, trying their luck at some fish, while the dolphin tries his luck below the water. He comes up gently, and in a swish dives below. It's a pleasure to wait for him to come up, grey and wet, he doesn't make much noise. The Irrawady dolphins are a gentle species.
We then move to the mangroves where the vegetation is thick and it seems like the Amazon forest. There is no sound, except that of the motor of the boat and when that too shuts off, we are alone in the deep, alone with nature – only the sound of water lapping against the boat, birds chirping and the rich wetlands around us. Freddy spots a crocodile and points out, it takes a few seconds to spot it as it is beautifully camouflaged and needs an expert eye to spot. We are so excited that we begin to talk, the sounds scare it away! Alas.
The boat then moves and we spot a tiny village on the banks. This fishing village built on stilts is totally independent and has its own police station too. For most shopping, the residents have to go to the main city of Kuching! They have a doctor from the mainland to visit them every week, and the entire village has just two grocery stores for essentials. Our boat takes a break and we walk up to the houses. Children with their mothers smile at us, completely at ease with visitors. It is a Muslim village and has just finished celebrating Ramadan, so most of the children are still in their festive linery. Picking up a couple of packets of chips and water bottles, we move on after waving goodbye to the lovely children.
Freddy decides to take us close to the dense mangroves and as we halt, we see mudskippers and tiny blue crabs, which are very typical to these wetlands.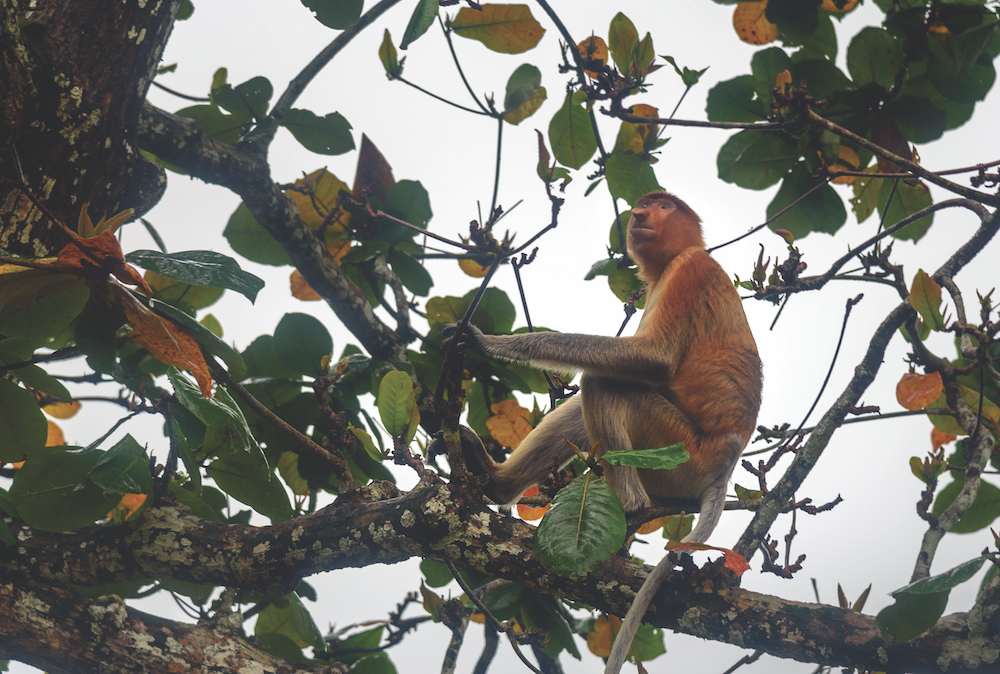 As we move ahead, there is a sudden whirring in the leaves of the trees above, yes, it's the Proboscis monkey! But he moves at lightning speed at the sight of us. But we are lucky to have spotted him. This species is exclusively found in Borneo only.
Extremely satisfied with our sightings, we begin our journey back. Reflective, we are all quiet and ruminating over the marvels of nature.
SIGHTS IN KUCHING
The main attraction of Kuching is the Fort Margherita, a beautiful white fort-building in the midst of deep green trees. It was built in 1879 to guard Kuching from pirates. It was named after Charles Brooke's wife, Ranee Margaret, and a must see landmark of Kuching.
Today the Fort houses the Brooke Gallery which has information about the 'White Rajahs'. It was in the 1830s that Sarawak, a province of the once- mighty Sultanate of Brunei in north-west Borneo, was ravaged by pirates. An English explorer James Brooke arrived in Sarawak in 1839 and remained here to make it one of the best regions. The Gallery highlights the people, places and history behind the birth and development of Sarawak during the Brooke era.
A few metres away is the Astana – a beautiful white palace, now the official residence of the Governor of Sarawak. The palace was built in 1870 by Charles Brooke as a wedding gift to his wife. Close to the Astana, the State Legislative Assembly Building is more modern building that stands out because of its unique architecture and colour. It is located opposite the Sarawak River, between Fort Margherita and the Astana, facing the Kuching Waterfront.
On one side of the river is the waterfront which is extremely conducive to a stroll in the evenings. Tiny shops dot the waterfront, selling handicrafts and fabrics. India Street houses some interesting stores, with Indian spices and handicrafts.
One of most majestic buildings is the Old Courthouse with its beautiful white walls and pillars, built in 1874. The Clock Tower and the Charles Brooke Monument were constructed close to the Courthouse, both famous landmarks of the city.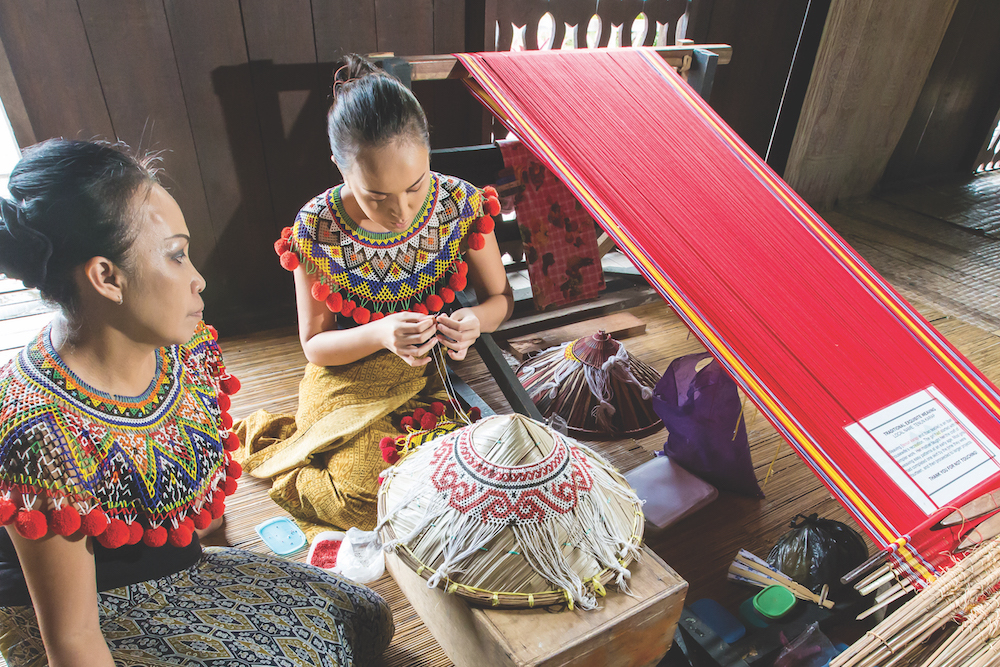 While walking around the Old Courthouse, I was lucky to chance upon a workshop by tribal women making the Pua Kumbu, famous textiles of Sarawak, woven by the Iban tribes. The workshop was being held as part of the Rainforest World Music Festival, as a cultural event. I got to know that weaving was always the priority of women and this fabric is considered sacred. Motifs with human figures can be woven only by wives and daughters of chiefs. These figures with raised arms and out-turned legs are representations of deities (serving as talisman to protect the wearer from danger as well as to ensure a bountiful harvest for the season). A short informative documentary was being aired on the tribe and there were some wonderful bags, purses, and throws on sale.
Other interesting buildings around the main square are: The State Mosque of Sarawak with its golden cupolas. It is also known as 'Masjid Lama' (Old Mosque); the Natural History Museum which was built in 1908, it houses special collections found in Borneo such as skeletons of mammals, invertebrates, reptiles, birds, insects, fish, and shells which have all been conserved. Close to the Natural History Museum is the Sarawak Museum, right now being renovated.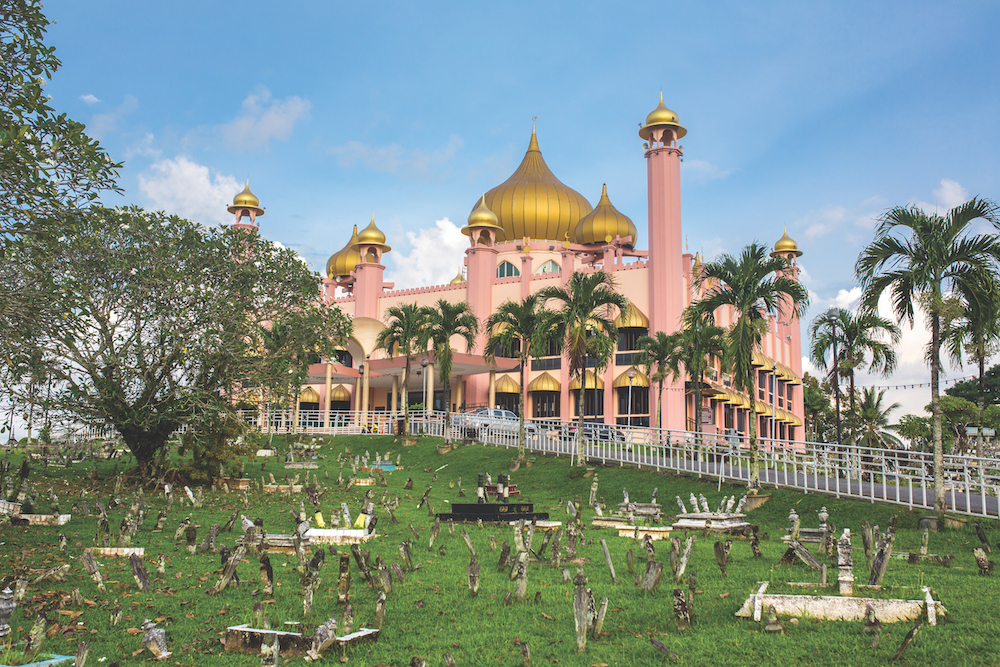 MALAYSIAN CUISINE
Malaysians begin their day with black tea with or without sugar and traditional families have Mee Kolok – a soup that is quite bland with plain noodles, topped with meat. Roti Canai (pronounced roti channa) is a heavy breakfast which consists of a spicy gravy served with a puffy paratha (called Roti in Malaysia).
One afternoon at the Rainforest World Music Festival, I chanced upon an authentic Malaysian Restaurant called Budaya in the Sarawak Cultural Village in Damai. It was a fantastic buffet with more than 15 items on offer. Ethnic Sarawak cuisine with specialties like Bario rice with wild mushroom, salads, minced fish, chicken cooked in bamboo, shredded beef, petal beans, mixed veggies, fried rice and plain white rice, each serving packed in a dark green leaf, spicy noodles – the entire meal for just 48 Malaysian Ringgit. It was one of the most amazing meals I've had! Another place that is a must visit is the Top spot, an extremely popular place for dinner with the locals. Rows and rows of stalls with fresh  sh on display, – clams, crabs, lobsters, fresh catch in abundance for customers to choose from, mushrooms of various kinds, salad leaves! Each table is round with the lazy susan to pass the delicious dishes and some of the popular dishes here are – seafood soups, batter fried tiger prawns, squid tossed in oyster sauce, fish with salads, stewed vegetables and mushrooms.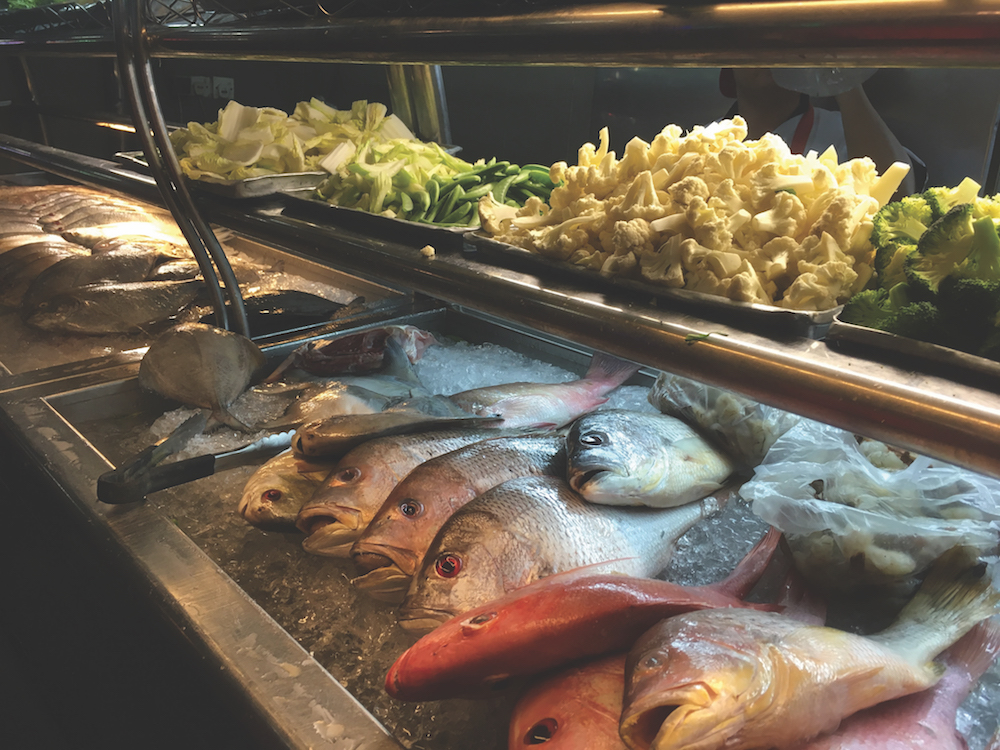 If you are fond of the Singaporean Laksa, you should try the famous one-dish meal in Malaysia too. But do not be shocked as the Malaysian Laksa is spicy with not too much of coconut milk in it but plenty of crunchy fresh bean sprouts, strips of chicken, succulent prawns and slivers of omelette sitting on a bed of noodles all in a rich spicy broth, garnished with chopped coriander. It is served with a wedge of lime.
There is plenty of Indian cuisine influence  too. The Malabar Hotel had an amazing array of spicy gravies and biryani rice.
CAKES OF MALAYSIA – KEK LAPIS
No visit to the Sarawak region is complete without tasting the traditional layered cake called Kek Lapis. My guide Norlin made sure I visited a factory-cum-store called the Dayang Salhah Kek Lepis where I could see and taste this speciality. An extremely colourful cake, it has thin layers in different colours and is soft and delicious. Malaysian make it a point to buy this cake for every occasion, especially Ramadan. Tiny pieces of the cakes were cut and kept in boxes for sampling and there was so much variety that I was confused which one to taste, and Norlin was of great help. Soft, melt- in-the-mouth cakes, they were green and cream ones, pink and brown ones and some with all colours in neat layers.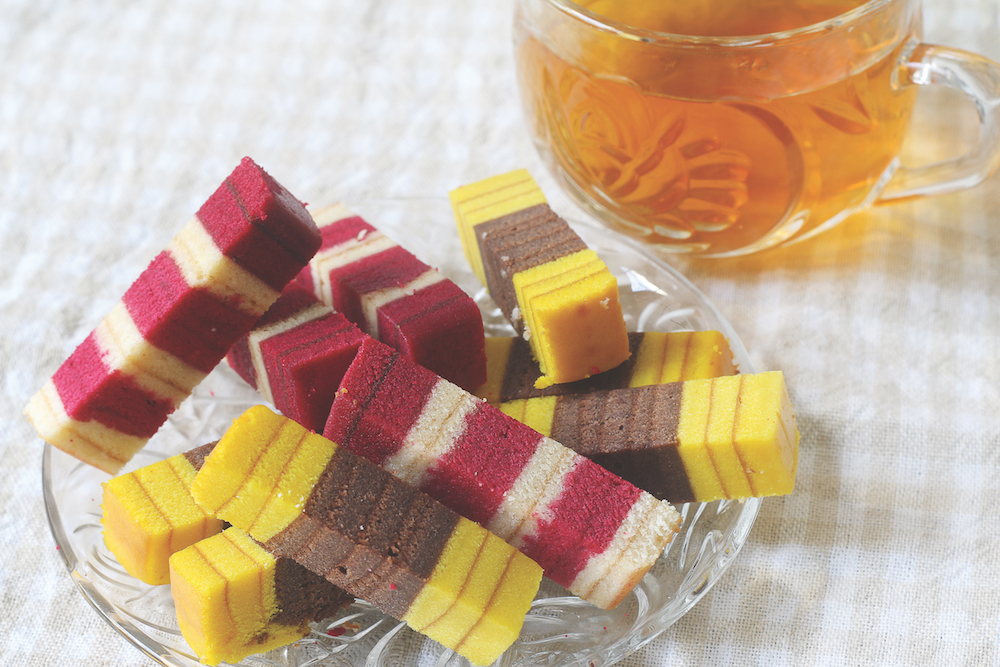 I picked a couple of flavours and they were a great reminder of my trip to Sarawak, once I got back home. While the city of Kuching has a much slower pace than the capital Kuala Lumpur, it has plenty of attractions with the rainforests being its best attraction.
THE RAINFOREST WORLD MUSIC FESTIVAL
Held in the backdrop of nature and the rainforest, this music festival brings together world musicians. First held in 1998, it had just 300 attendees, and now the number has ballooned to 20,000. It is World Music festival extraordinaire set against the magnificent backdrop of the legendary Mount Santubong.
It all began with a Canadian musician called Randy Raine-Reusch who came to Sarawak in 1997 to learn traditional music and was thoroughly fascinated by the Sape (a local music instrument). Robert Basiuk of the Sarawak Tourism Board and Randy had a lot of discussions on the disappearing knowledge of playing traditional instruments. The  rst festival was held in 1998 and continues till date with the vision that it would be a showcase for international world music and well as for local music.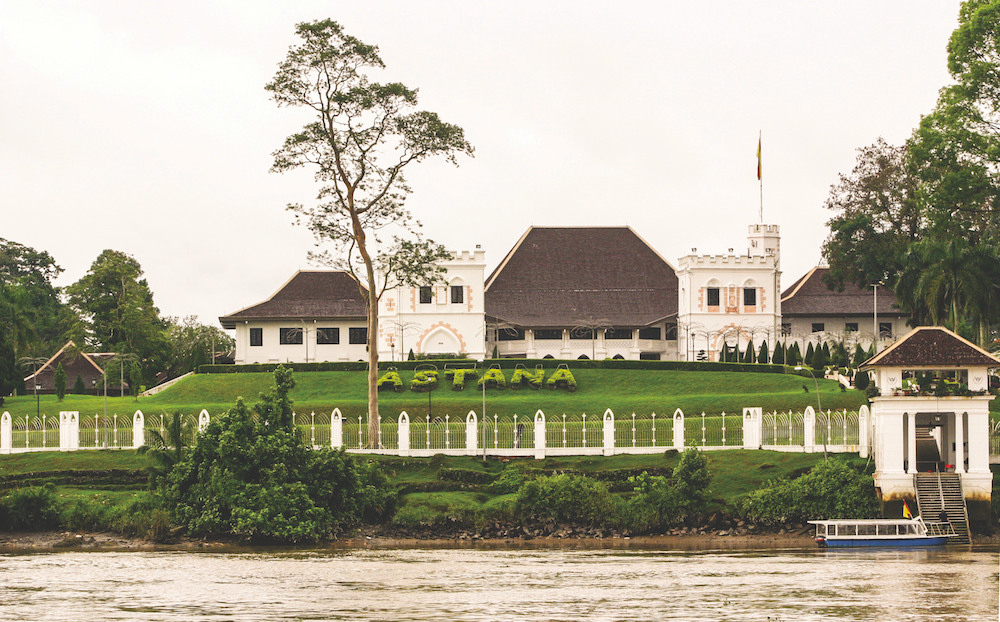 Each band had a lot to offer, mesmerizing the audiences with their music, songs and performances. Bhangra made its presence felt with Achanak (UK/India); while Abavuki – an African Jazz band from Langa, Cape Town was among the top favourites with their high-energy. Some of the other bands were At Adau from Sarawak, Belem from Belgium, Ba Cissoko from Guinea, Calan from Wales; Cimarron from Colombia; Dom Flemons from USA; Hanggai from China; O Tahita E from Tahiti; Okra Playground from Finland; Pareaso from Korea.
Plenty of planning goes into the Festival every year, making it extremely interesting – with a formula of three afternoons of interactive and educational workshops, ethno-musical lectures, jamming sessions and mini concerts, followed by evening performances on the main stage. The entire city of Kuching is tuned to the festival, with events and banners to make it festive and involve the entire culture.
At the festival site, there were plenty of food and drink stalls, an arts and crafts area as well as a counter for festival memorabilia, Sarawak souvenirs and CDs by the performing artists, thus contributing to a fun-filled, wholesome festival experience for all.
With the Damai beach and its pristine sands, water sports and river cruises, one can enjoy the forests, experience wildlife too, post the three days of the festival.
A family-friendly event, it has a record of environmental awareness as evidenced by its tree planting campaigns, its attention to recycling and the use of shuttle buses to reduce carbon emission.
Next Dates: 13-15 July, 2018
Location: Sarawak Cultural Village, Kuching, Malaysia
This article was originally published in the September 2017 issue of the CEO India Magazine. Click here to download the latest digital issue.