India needs to promote its business houses to evolve into Zaibatsus and Chaebols
Binod Chaudhary is the rest and sole billionaire from the neighbouring Himalayan nation of Nepal. He is the chairman of the Chaudhary Group (CG), a multinational conglomerate with a portfolio of 122 companies spread over ve continents and with 26 renowned brands in the global market. A respected figure in the fast moving consumer goods (FMCG) industry, he is best known for his popular instant noodles brand Wai Wai. Chaudhary saw an opportunity in noodles when back in the 1980s he saw large numbers of instant noodles cartons being own from Bangkok to Kathmandu. Today Wai Wai is sold in over 30 countries and claims to be the No.2 noodles brand in India with a 27 per cent market share. The company has eight Wai Wai plants in India, six in Nepal and four are under construction in Serbia, Saudi Arabia, Kenya and Bangladesh. The combined production is 2.2 billion packets a year. Chaudhary's other business interests include electronics, hospitality, infrastructure, education, telecom and realty, which are among the 15 business verticals he runs within the Chaudhary Group. His biggest asset is a controlling stake in Nabil Bank, Nepal's largest private-sector commercial bank. The other key assets include a string of hotels, and joint ventures with the Taj (Tata Group), Alila, Fern and the Farm at San Benito, to name a few prominent brands. Besides, there are power projects and cement plants in East Africa and property developments in the Middle East. Chaudhary is also a leading philanthropist in Nepal; he has made signi cant contributions to rehabilitate the survivors of the earthquake last year and is involved in shelter and school projects in the earthquake-affected districts. In an interview with Amit Ranjan Rai, Chaudhary talks about his growth story, the relations between India and Nepal, priorities for Indian companies and the government as well as his focus on nurturing and supporting disruptive ideas and start-ups. He believes that India needs to promote its business houses to evolve into Zaibatsus and chaebols — companies like Mitsui, Daewoo and Hyundai. "These corporates were able to become global players not entirely depending on their internal resources, but the countries backed them as their own global arm," he says. He also asserts that India has the potential to become a hub for inventing disruptive technologies and business models but it needs to be highly proactive on this front.

You are the most successful corporate leader in Nepal. Please tell us about your growth story.
I was maybe 14 years old and I was attending a vocational school in Nepal where we were being taught secretarial skills. I was a good student and one of my teachers encouraged me to set up a tuck shop inside the school. I borrowed a few rupees and with some of my classmates we would go shopping, buy a few items and then set up a table and resell the items inside the school. Looking back, it was actually a great way of learning the dynamics of business — it really taught me the ABCs of buying, selling, and keeping stock. My second very important experience was setting up a discothèque in Kathmandu with a friend. It was the rst discothèque there — I still remember ying to Hong Kong to buy some psychedelic lights. I was 17 years old anditwasalotoffun;butitwasalsoa serious business and not an easy one, because you had to collect money from people getting high or people who "forgot" to pay because they were drunk. In fact, you had to be more serious than in a normal business, given the nature of the business. Here my friends were dancing with the girls, getting drunk, but I had to maintain a certain discipline so that my staff would also behave themselves. As a leader, it's important to lead by example, whatever the business you're in.
When I was 18, my father sent me to Japan to conduct some wholesale business, going around shops in Osaka to buy fabrics and bring back to sell — mainly to Indian tourists and other wholesalers. It was a very small business but the idea was innovative in Nepal in the 1970s, that is, moving away from imported textiles from India. What I saw in Japan really opened my eyes. Even when it was a small business, a one-man business, the way the Japanese would go about being very systematic, their dedication to work, fewer words more action, great team work, great discipline, great time management — those observations got instilled in my mind and I started to apply those wherever possible in my life, which was not easy in the context of our work culture and organisation, but to a large extent we did it.
Back in the early 1980s, I was looking to create a product from our as we ran the Mahalaxmi Flour Mills and I wanted to use it. Flying to Bangkok and back, I saw many cases of noodles on the baggage belt and I would ask people: "Why are there so many of these cases coming from Thailand?" They would tell me that people loved them. Then I decided to start producing Wai Wai in Nepal. Today Wai Wai is sold in over 30 countries. It is rapidly growing in India, the Middle East, Africa and Eastern Europe. We have eight plants in India, including a new expansion in Rudrapur. There are six in Nepal and four under construction in Serbia, Saudi Arabia, Kenya and Bangladesh. The combined production is 2.2 billion packets a year.
After starting Wai Wai, there was no turning back. Rest was easy. I kept on starting new business ventures and the Chaudhary Group continued to grow.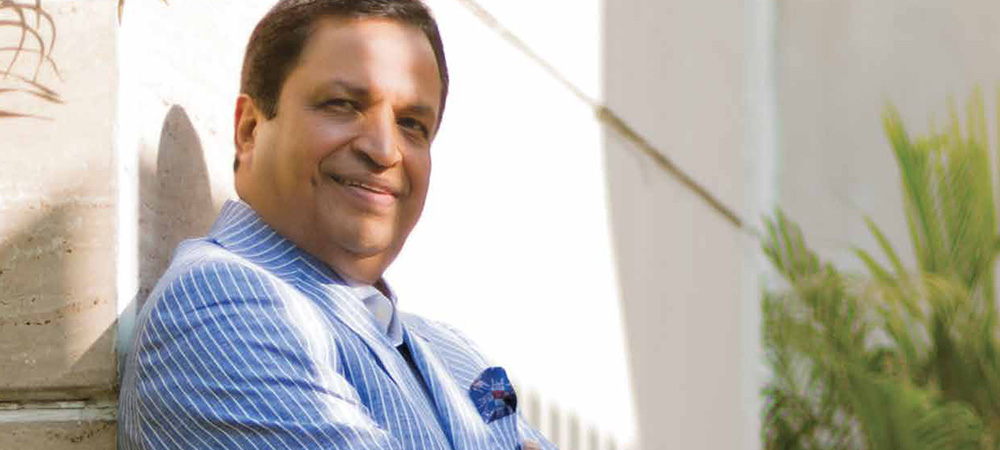 What are your views on Indo-Nepal relations?
It is extremely important for both countries to have a warm relationship. Both countries are mutually dependent on a lot of things. Cordial relations between India and Nepal pave the way for successful entrepreneurial ventures. The two countries share a common culture, an open border that is united by family bonds and trade exchanges from times immemorial. Nepal can become the base for developing major infrastructure projects and regional trade networks because of its natural resources, geographical positioning, and possibilities of transit corridors between China and India. This will bene t not only India and Nepal, but the entire region. Nepal can become the bridge between the Chinese capital and technology and the Indian market.
What according to you are the biggest forces shaping the business world today?
The fundamentals of doing business in terms of process and business model itself have come under serious scrutiny. The invention of new technology in today's most connected world is disrupting the fundamentals of doing business. The world's largest trading company has no warehouse, the largest taxi company has no car and the world's largest hotel brand owns no room. Established brands and technologies like Kodak, Blackberry and Nokia vanished from the market overnight. Today invention knows no boundaries. Every day some young minds somewhere are coming up with revolutionary ideas on the backbone of technology. Technology- backed connectivity and the emergence of new business models are going to reshape the world's economic activities going forward.
What should be the priorities for companies with respect to these forces?
As a business leader, you not only have to be aware of what's happening around you or, for that matter, globally, in terms of the new inventions and technologies, but you also have to be one step ahead of others. Because these technological advancements are moving ahead so fast you may be too late by the time you catch up and your business or product or service may suddenly become irrelevant.
In terms of business expansion, what should be the priorities for Indian companies? Should they increase their operation overseas, particularly in emerging markets, or should they focus more on the domestic market?
India is not a country, it is a continent. It would be a mistake to generalise India. It still has some very backward states, and at the same time, it has states that are competing with and excel from some of the high growth cities of the world. India needs to tackle both these fronts. There are many areas where there are immense opportunities. There are many states and many sectors where India offers huge opportunities. These still remain unexploited. But at the same time, India cannot lag behind in the race of becoming a major global player. Some Indian corporates have done well in this regard. But many more need to participate. India needs to promote Indian business houses to evolve into Zaibatsus (in Japan) and chaebols (in Korea) — companies such as Mitsui, Daewoo and Hyundai. These corporates were able to become global players not entirely depending on their internal resources, but the countries backed them as their own global arm. China is following the same model today. A Chinese corporate gets virtually free money for global expansion.
In the northeast, Orissa and UP, there are huge opportunities, but there are also states like Karnataka, Maharashtra, Punjab and Haryana where there is plenty of money. So India has to go on both fronts.
How should Indian companies approach disruption?
Indian minds are very fertile. Otherwise, they wouldn't be ruling the world in the software industry. Indian software companies are regarded as some of the best in the world that control the Silicon Valley. Indians are leading many technologically advanced and high growth companies even in the US and Europe. To my mind, India is in the best position to pre-empt disruption and tap, seize, and promote ideas that come from the bright young minds that can change the world. Like in the 80s, India became the hub for software development. Today India has the potentials of becoming the hub for inventing disruptive technologies and business models. Indian institutions have to realise this potential and back the young minds in their startup ventures. Unfortunately, this is not a sector that is handled very well in India. Look at the way Singapore is doing. It is building a conducive environment for establishing accelerators and incubators by giving huge subsidies to develop and promote such ideas. These accelerators are factories of ideas for new 21st-century disruption business. India needs to promote much more proactive role to tap these. Our group has joined forces with Singapore and Indian companies to start this and we hope to make some difference in this direction.
How do we nurture such values which give emphasis to disruption and innovation within the organisation?
As I mentioned above, one of the motivations for us to enter into accelerators and startup venture capital is to be a part of this. We are involved in 16 different business verticals. We wish to understand, explore and support such disruptive ideas which can reshape our existing verticals into what will remain competitive. We want to attach the process of identifying disruptive businesses as a part of our business.
How can boards become more effective in today's fast-changing business world? Do you think the role of boards is undergoing a change or it has changed over the years?
The role of boards in this changing world has to become far more specialised and professional. Today's board has to learn how to insulate from becoming a part of the management or interfering in the management. It has to be capable of learning from the experiences of successful companies in their space and the best practices which they should be able to pronounce. It has to one step ahead in terms of thinking, planning and giving direction to not only its own management team but also its peer groups. Boards must inspire the management team, not dictate.
How should companies build the workforce for future? Companies will have to become more agile and change fast to new business realities. How can CEOs ensure their teams have the adaptive quality that can handle any change?
Companies will have to realise that their workforce is their biggest asset. It's all about people no matter how much technology we talk about. Companies will have to spend adequately and in the right manner in training and building the workforce and giving them the best possible environment to work. You cannot be a world-class company by having a mediocre workforce. It has to complement and support your vision in every respect.
How does a CEO communicate to his team that it has to become more agile?
The CEO is a leader. She/he is someone who inspires, who innovates ideas, puts a system in place with the involvement of his team and let the team run with it. The CEO needs to have an open mind to trust and delegate, but equally sharp eyes and ears to ensure they do not falter.
Companies spend a lot of money on leadership training. Does that really help in developing leaders for tomorrow?
Well, we run similar trainings too. You can give exposure to a potential candidate through proper training and handholding. But you cannot inculcate leadership qualities all the way. This is something you have to be born with. I believe that an organisation is better off identifying such potential leaders and creating the right kind of environment to bring them up. There is a big difference. We cannot make a donkey into a horse.
How should companies go about making leaders out of managers and employees?
You can groom leaders only through your own example and inspiration. You cannot coerce your managers to become leaders. You can only inspire them. And that is the best way to groom leaders. You give them a worthwhile cause and give them hope. What you do, people will follow. But for that, they have to identify themselves with you. So you also need to give your managers ownership of their works.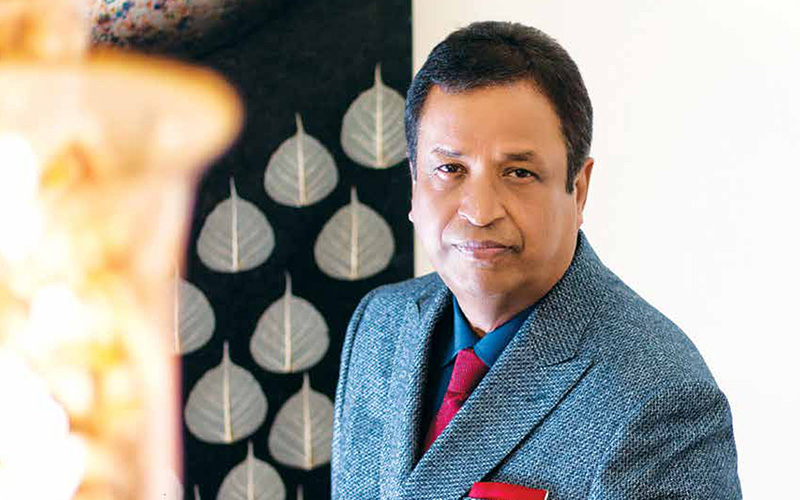 Every leader should be assigned the task of bringing up people that she/he considers can succeed her or him one day. That means the person has the onus of identifying the potentials in the leader, grooming the leadership qualities, and paving the way to take over from her or him. You have to bring somebody up the ladder, make him sit, and you move up. The process is simple. Identify, bring up the person to take over from you, and then you rise above for a bigger role.
What is the start-up space in Nepal like?
It is starting up! I can assure you that we will take it forward very fast. We are not lagging behind in this race. As I mentioned earlier, we have already opened a new initiative that will help open and accelerate this drive very soon. We will support those young minds with disruptive ideas. We are already doing it in the social space by supporting the impact business through our noble philanthropic project called Nepal Social Business, an initiative of Professor Muhammad Yunus and Lions Club International Foundation.