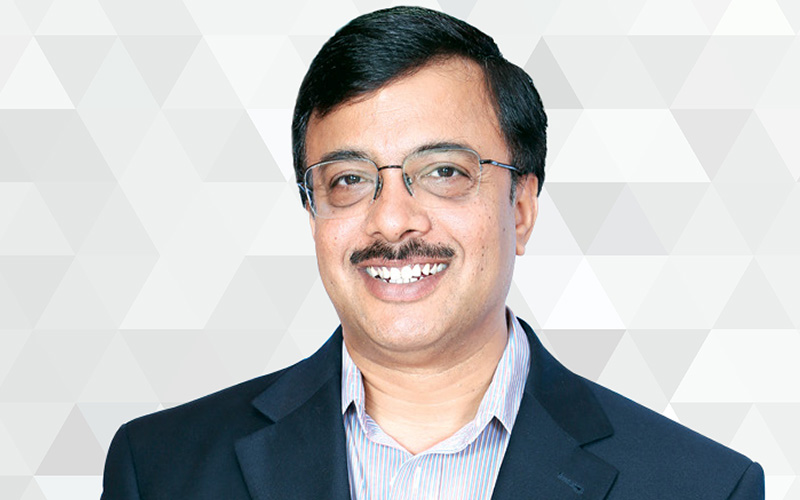 Our transformation has been fundamental to our turnaround from the brink of collapse
Last fiscal year was a record year for Ashok Leyland in many ways. The commercial vehicles (CV) giant achieved its highest ever sales volumes and turnover, its highest ever market share and operating pro t as also its highest shareholder value. Its turnover grew by a good 39 per cent to Rs 18,822 crore, as against Rs 13,562 crore, a year ago. The sales volume grew by 34 per cent to peak at 1,40,457 units, and the net pro t rose by a remarkable 115 per cent to Rs 722 crore, as against a year ago. The company's market share in medium and heavy commercial vehicles (M&HCVs) reached an all-time high of 31.3 per cent. Just over two years ago, when the CV industry was grappling with one of its worst recessions, Ashok Leyland was faced with what managing director Vinod K Dasari calls "nearly existential challenges." The industry demand between FY12 and FY14 had plunged by about 50 per cent. As a result, in FY14, Ashok Leyland's sales plummeted by 22 per cent (over FY13) to a low of 89,337 units, the turnover dropped to Rs 9,943 crore and the net pro t was a mere Rs 29 crore. The scenario called for radical measures to reverse the fortunes. Says Dasari, "We used this as an opportunity to transform ourselves into an agile player." The company restructured itself into six businesses, with each responsible for not just its market share but also its EBITDA and working capital. This, says Dasari, drove ef ciency and a greater focus on return on capital employed. Massive programmes were launched to cut costs and reduce working capital requirements. Importantly, the company brought its focus back on its core business of commercial vehicles, chalking out a clear plan to exit from non-core and non-performing businesses. "Our efforts in pruning costs while at the same time investing in new products and network have helped us transform the company. We are now poised to seize the opportunity the market presents in the immediate future," says Dasari. In an interview with Amit Ranjan Rai, he talks about his transformation drive to turnaround Ashok Leyland and his plans to achieve its vision to be among the top 10 in global trucks and top 5 in global buses.
Ashok Leyland has delivered solid performance in FY2015-16 with a 39 per cent growth in revenue. Your earnings have increased to a healthy 11.5 per cent of total revenue and are perhaps the highest ever. What have been the reasons behind this robust performance? What factors — in terms of both your strategy and demand — have contributed to the performance? Which segments have been the key revenue and profit drivers?
The Indian commercial vehicle market had a period of continual growth from 1999 to 2008, when it got struck by two back-to-back recessions. The second one between 2012 and 2014 was one of the longest, deepest recessions that had ever struck the market. Demand dropped by over 50 per cent. The drop in demand occurred suddenly and steeply, immediately after the industry achieved its highest ever sales. Even the traditionally resilient segments such as light commercial vehicles (LCVs) and buses saw a steep drop in demand.
This recession posed severe, nearly existential challenges for Ashok Leyland. We decided to use this as an opportunity to transform ourselves.
We restructured ourselves into six businesses, with each business being responsible for not just market share, but also its EBITDA (earnings before interest, taxes, depreciation and amortisation) and working capital. This drove ef ciency and a greater focus on ROCE (return on capital employed).
We also drove a focused programme on working capital, synchronising production planning closely with forecasts. This resulted in substantial improvement in inventory, reducing working capital requirements from 88 days to nearly zero.
We launched a massive cost- management programme that worked to structurally reduce our costs and reduce our break-even point drastically.
We brought focus back on the core business with a clear plan to exit from non-core investments.
This transformation process has been fundamental to our turnaround from the brink of collapse, to our highest ever market share and highest ever profit. It was not just a one-off exercise, but a continuous process which will continue to drive us towards our future goals and our vision.
More importantly, we continued to invest in programmes that would give us a boost when the market returned.
We grew our network right through the recession by introducing several innovative, low-cost formats. In 5 years, we grew from around 250 to over 1,250 touch points.
We invested in new products and introduced several new platforms, many of which are segment leaders today, for instance, the U3718 truck, "Captain" and "Boss" models.
We continued investing in our people and our brand.
We used the challenging economic scenario to transform ourselves into an agile player, and now are appropriately positioned for sustainable growth.The results of these efforts are evident in the company's stock price performance over the last two years, with Ashok Leyland becoming the best- performing automotive company, not just in India, but globally.
What kind of growth has each business segment/vertical seen?
We are structured into six business verticals, namely trucks, buses, LCVs, aftermarket, power solutions and defence.
In trucks and buses, we increased our market share in the domestic market to just over 31 per cent.
Our LCV products have gained signi cant positive response across the country. With the last 3 consecutive years of slowing LCV demand, Dost has maintained its market share.
The power solutions business witnessed an 11 per cent growth over the previous year. This was achieved despite de-growth in the industrial segment, an unseasonal monsoon resulting in a lower crop harvest and a shortened fishing season.
The defence business gained momentum and sales of Stallion kits to the Indian Army have improved over the last year. We also won additional tenders from Indian defence establishments for the supply of advanced-technology products over the coming years.
Revenues from the aftermarket business have been steady and consistent.
What is your outlook for the market and industry? The single-digit monthly growth in May-June is in contrast with the 30 per cent growth in the prior 6 months. Some fear this may be the beginning of another slowdown. How do you see the scenario in the days to come?
We should look at the bigger picture here. The commercial vehicles market has grown signi cantly over the last 2 years, driven by improving viability for fleet operators due to a reduction in operating cost (lower diesel prices), replacement-led demand and pre-buying ahead of the implementation of BS-IV emission norms. But the 30 per cent y-o-y growth is not sustainable and also not healthy for the industry. We expect the total industry volume (TIV) to grow at 10 to 12 per cent in FY2017.
The Union Budget for FY2017 is positive for the industry with a signi cant focus on enhancing farm income, rural development initiatives, and infrastructure (rail, road and waterways). Auctions of coal mines, opening up of iron ore mines, and easing of movement of sand has improved sales for the construction and mining segment. This would pick up pace with the clearances to progress further. The government is also proposing a policy for "voluntary vehicle fleet modernisation" for commercial vehicles older than 10 years.
The domestic bus sales are likely to bene t from a) The government's recent proposal of opening up the passenger transport sector to private players, and b) higher allocation towards urban development projects and other initiatives such as "smart cities".
The LCVs demand is also likely to pick-up in FY17 on the back of replacement-led demand (after 3 years of declining sales), pre-buying ahead of the implementation of BS-IV norms and Swachh Bharat urban initiatives. In contrast, to a flat TIV in FY16, we believe this segment will witness a growth of 8-10 per cent in FY17.
Are commercial vehicle prices likely to be affected before BS-IV comes into effect in April 2017? Are margins likely to get affected?
The move to BS-IV is already underway, with metros moving to BS-IV last year and a number of states moving to BS-IV earlier this year. All-India permit vehicles will transition to BS-IV on April 1, 2017. Since the entire market will transition to BS-IV, we would be able to pass on the cost to the customers and do not expect any signi cant impact on our margins owing to this.
What is your vision for Ashok Leyland? What has been your roadmap and strategy to achieve this vision?
Our vision is to be in the Top 10 in global trucks and Top 5 in global buses.
We are a stand-alone, self-suf cient Indian company. We do not have any international player supplying us technology or giving us market access and yet we have been steadily growing towards our vision. In buses, we are already in the Top 5 globally, and in trucks, we have moved to the 14th rank.
What have been the initiatives on the product development front to meet evolving customer expectations? How are you meeting the current BS-IV emission norms? What would be the incremental cost? Also, how are you dealing with the challenge of developing BS-VI vehicles with the right technology and cost within the stipulated time?
The customer expectation and needs are evolving fast. There is likely to be a greater emphasis on driver comfort and safety, more rigorous duty cycles, enhanced product reliability, and digitally-connected vehicles. We have ongoing initiatives to stay ahead of the curve and continuously meet the needs of our customers.
As you are aware, the government has set a tight timeline for migrating directly from BS-IV to Euro-6 emission norms by 2021. We have drawn up a clear roadmap for the development of the technology and expect to be ready for it. While most global players already have the technology available with them, the challenge for India is the right technology at the right cost. We have de ned a clear programme for achieving this, within the stipulated timeline.
What is the tonnage addition you foresee for the commercial vehicles in FY17?
With the improvement in road infrastructure, the growth of e-commerce, enforcement of rated load, and the likely implementation of GST (Goods and Services Tax), there will be a greater need for higher tonnage, longer runs and faster turn-around times. We expect the market to gradually shift towards higher tonnage and higher horse-power engines.
Competition has only increased over the years. A number of global players, like BharatBenz, Volvo, Isuzu and Scania, have entered the Indian market in the recent past. Despite this, your market share for medium and heavy commercial vehicles has increased for the fifth consecutive year — from 22.5 in FY12 to 31 per cent in FY16. How do you see competition panning out in the days to come? What is going to be your focus in terms of market share?
There has been an increase in the number of players in the Indian CV market over the last 15-20 years. We had primarily two players in the 1990s, which grew to ve by 2010 and now there are 10 players in the market. The increased competition is good for the market and for the customers. It has resulted in a wider product offering, better technology and better customer service.
The mantra for success, however, does not change with the number of competitors. If you can offer the most relevant product and excellent customer service, which helps the customer grow his business and pro tability, you will garner a larger share of the market. We have done this consistently over the last 10 years and have been successful in steadily growing our market share from 22 per cent to 31 per cent.
Our focus will continue to be on enhancing our value proposition, and building partnerships which are fulfilling, resulting in 'AapkiJeet, HamariJeet' (In your victory, we find our victory).
How do you plan to stay ahead of the curve in a fiercely competitive market? What are going to be your USP and advantages over the competition?
Our strategy is to focus on the customer and leverage our deeper insights to develop solutions that meet his current and future needs. We will continue to drive product quality and reliability and apply 2nd hemisphere innovation to offer superior total cost of ownership (TCO) for our customer.
You talk about a portfolio rationalisation which would see a progressive exit from non-core and non-performing businesses. Give us more details, what have been the developments on this front? What is the action plan like?
The strategy is not just about what to do, but also what we should not be doing. It's about optimal utilisation of nancial resources and more importantly management bandwidth. Senior management time is probably the most precious scarce resource for any organisation.
Our strategy to exit from non-core has been ongoing for the last 2-3 years, and this has helped us reduce our debt position and improved D/E ratio to a more manageable level. But, personally, for me, the greater value has come from the management time that has been diverted to the core business to drive growth.
Are you looking at acquisitions, joint ventures or partnership in the core areas of your operation?
We will continue to build partnerships and alliances where relevant and where we believe they address our core business. However, our focus will be on organic growth.
Tell us about your renewed thrust in international markets and the reasons for the same. Which markets are bringing you most business? Which markets are seeing an increase in demand? What is going to be your strategy to penetrate and grow business in these markets?
International sales have been around 10 per cent of our sales historically. We see signi cant opportunity to grow this in the next couple of years. Our international strategy is focused on leveraging our existing strength in products and technology and targeting markets which are attractive in terms of size, and where our ability to win is high.
We have identified six clusters of markets, primarily in the 2nd hemisphere, which we will focus on. These include Africa, the Middle East, South Asia, Latin America, Asean and CIS.
We already have generous sales in South Asia (Sri Lanka, Bangladesh and Nepal) and in the Middle East. Plans are in place to set the foundation for expansion in the other clusters.
You are reportedly doubling the capacity of your Ras Al Khaimah plant in the UAE. What have been the reasons? What are the key markets the plant caters to? Any new markets you are targeting with the new capacity?
The present capacity of the Ras Al Khaimah plant is 4,800 per annum, we plan to increase this to 9,000 per annum by close of FY18. This capacity will service the requirements of the Middle East and North Africa markets. We are also exploring two satellite plants, one in Kenya and a second in Ivory Coast.
You are the largest supplier of medium and heavy vehicles to the Indian Army. How is your defence business doing? What have been the key developments?
We are the largest supplier of logistics vehicles to the Indian Army, we have a strong portfolio in the defence sector. Our defence business has steadily gained momentum with sales of Stallion kits to the Indian Army growing over the years.
We have recently also won additional tenders from Indian defence establishments for the supply of advanced-technology products. We are on the path of building capability to increase product lines, integrate sub-systems on vehicle platforms, and increase our contribution to Indian defence requirements.
You recently tied up with Lockheed Martin to develop combat vehicles. Tell us more about this tie-up and other such deals that will help step up your defence play?
The base platforms of Lockheed combat vehicles will be used to develop light-specialist and light- armoured multipurpose vehicles for the Indian Army. Ashok Leyland will serve as the prime contractor and provide a manufacturing hub for global requirements of the vehicles.
We are also working with few other foreign rms who have the technology that could suit India. However, we are clear that we want to remain focused on our core competence of transport.
How has your power solutions business performed in the past few years? What is your strategic roadmap for the growth of this business?
The power solutions business witnessed an 11 per cent growth over the previous year. This was achieved despite a de-growth in the industrial segment, an unseasonal monsoon resulting in a lower crop harvest and a shortened shining season, and improved power availability across the grids, which all pulled down the overall demand for engines in FY15-16.
This business offers a steady and acyclic revenue stream, so it is of great strategic importance for us. We will continue to build on the current portfolio of non-automotive applications.