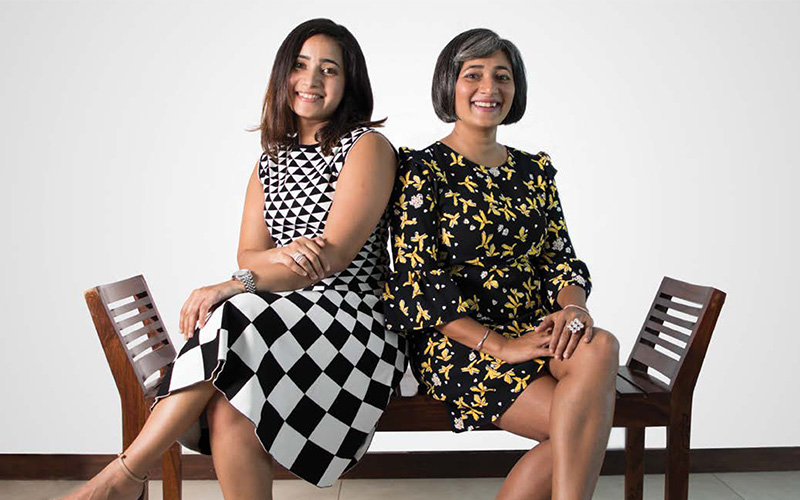 We Complement Each Other & Together We Can Make Anything Possible
In 1985, Prakash Chauhan of Parle Agro gave India its most loved mango drink, the fresh 'n' juicy Frooti — the iconic brand which has since been one of the country's highest-selling beverages. Three decades later, Chauhan's daughters have turned Parle Agro into a food and beverages behemoth that the father couldn't be more proud of. Schauna Chauhan, the CEO of the company, and Nadia Chauhan, its joint managing director and chief marketing of cer, have diversi ed the business into a number of food and beverages brands — Frooti, Appy, Appy Fizz, Bailley, Bailley Soda, Café Cuba, Hippo, Frio and Frooti Fizz. Many of these have been market leaders in their categories and grown exponentially. Under the two sisters, Parle Agro has grown from a humble Rs 300-crore company to a Rs 3,000-crore heavyweight. The vision is to make the company the country's No.1 beverages player. What makes Schauna and Nadia click as a team? They say they are two very different personalities and their way of working is just as different. What they have in common, says Schauna, is the passion they have in driving the organisation, the genuine and honest values with which they work for it, and the perseverance that they have in doing what they do. "It is a blessing that we are as different as we are, because we complement each other's skills and together we can make anything possible," says Nadia. In an interview they discuss their father's influence in shaping them as business leaders, the passion they work with to achieve their vision for Parle Agro, and the way they make a perfect team.
Entrepreneurial spirit seems to be in your DNA. How has your father, Mr Prakash Chauhan, and his life in uenced and shaped you as an entrepreneur/business person?
Schauna Chauhan: Business was already chosen for me and I well accepted it as I grew up learning the business. I was never pressurised by the expectations. Getting up when you fall and being a good human being were something that I learned from my father very early.
Another advice by him that shaped me as a business person was doing these few important and very simple things: Listening, being aware, knowing the details of the situation, understanding the complete issue and then taking the decision together as a team.
Nadia Chauhan: My dad has had the biggest influence on me as an entrepreneur/business leader. When I was just a kid, between 8 and 12 years of age, I'd be restless and always wanting to start a business of my own. Do something entrepreneurial and enterprising. I started a few — a baking business, sold tie and dye clothes, garage sales — and each of these was encouraged by both my parents. But my father, especially, never treated it as a childish initiative; he'd always treat it as seriously as he'd treat his own business. He'd give me various inputs on leading these ventures of my own, ask me at the end of the day, how my workday was. He'd chat with me about it in detail and it was always so comforting to have his confidence in me. It was a big driving force.
This continued as I joined the business. He gave me space to operate, he believed in my thinking; he allowed me to try and celebrated the success with me. His confidence in me transformed me from a shy kid into a confident and determined leader.
If you can recall some instances where your father's nurturing and advice influenced and shaped you?
Schauna: I have grown up watching my father from close quarters. He always offers a different point of view to things. A learning by him that shaped my worldview: Failures are divided into two classes — those who thought and never did, and those who did and never thought.
Nadia: Early in life, I remember his biggest teaching was that no question is a stupid question. Ask without fearing. Especially since he'd take me for a number of business meetings and events, I was only 11 or so, I had a book of questions. I was still too shy to ask them out loud, but I'd write them all down, and he'd answer them for me towards the end of the day. It made me curious, always wanting to know more, always wanting to get involved not just super cially, but understanding in detail whatever it might be. It has helped me have a higher success rate, with whatever it is I do. But not only that, it has also helped me keep an open mind, and always absorb by watching and listening to everything happening around me. A lot of which registers and nds a place in a special box in my mind.
A more recent advice would be his annoyance with my need for perfection. It would trouble him a lot. He'd always feel like my need to have things be absolutely perfect would often lead to doing things perhaps at the wrong time. Timing is everything he would say. I agree. And I have learnt to let go of this trait, just a wee bit, allowing me to ensure I never miss the boat of opportunity. But as I say this, the perfectionist that still lives somewhere deep within is screaming out loud. So I'd conclude saying I've found a way to strike a balance. Instead of aiming to get it absolutely perfect in the rst shot, I give everything its time to reach a state of perfection, and even after that I keep evolving it further.
Does leadership come naturally to you or is it something you have learnt over the years? Do you think leadership traits come naturally to some, or can they be learnt or developed?
Schauna: I think leadership is something I have learnt from my father watching him dealing with multiple situations at multiple times. Leadership can be developed over time. I am a risk- taker and a micro-planner. I take risks when I am sure about the consequences and the subject and I know what I am doing. I am a micro-planner because if I don't plan the details, the execution part will be bumpy.
It's about creating a healthy culture that would retain people and have people respect the key values of the organisation. It's about keeping the focus on the goal, which is to build a successful company; it's not about a title or position but about working hard together to build a successful company with growth every year. Creating this culture is by the constant, never ending the focus one applies on it. It's about you, your team, your passion and your involvement.
Nadia: I believe every individual has a very unique leadership style of his or her own. I've never seen two of the same. I've evolved tremendously as a leader over the last 13-odd years of being in the business. I don't think it came naturally to me. I believe that it was my ability to connect with people around me, to drive them with a very passionate force, to create a common vision that really gave way for my own unique leadership approach. Some inspiration from my dad on how he developed me helped, which is, giving some space for people to operate and show you what they are capable of. To me building a strong, passionate and highly capable organisation has been a great achievement, and unlike the past, where we've had to be involved in every micro detail, I believe I've built an organisation that is capable of leading with as much enterprise and passion as me. And to me, this is a massive achievement, and one of the only ones I enjoy boasting of.
Schauna, you joined the company board as a director in 1999 and took over as the CEO in 2006. Under you, the company has diversi ed its business and rapidly expanded overseas. How do you see your professional journey so far?
The journey so far has been very exciting. After my Bachelor's from Business School in Lausanne, I got back into the rough-and-tumble of the business at Parle Agro. Since then, the group has diversi ed from just one product to being a leader in the beverage industry with brands like Frooti, Frooti Fizz, Appy, Appy Fizz and Bailley to boast. Our brands have grown exponentially, expanding the company's global presence with exports to more than 50 countries. We are working towards achieving our targets and to continue innovating new products.
Nadia, you joined the company in 2003 as part of the marketing team, managing the brand Frooti. Over the years you grew to handle the entire marketing department, sales, R&D, global markets, new business… and today you are the Joint MD and CMO. How do you see this journey so far?
My journey so far has been fantastic. I am fortunate to have been given the kind of opportunity that I have by my father, to build Parle Agro to the number 1 spot. I'm extremely ambitious and from the day I stepped into the office, I knew this was home, and I knew how large the opportunity was for our business. Since 2003 when I joined and till date, we have grown from a humble Rs 300-crore company to today a Rs 3000-crore company. Our growth story is one that we are proud of and is in line to deliver to our vision of once again attaining the number 1 spot in the beverage category in India. I take great pride in all the people who work with me, who have literally been with me through my 13 years, owning and driving the big ambition. Nothing can stop you from succeeding if as a leader you are able to instil as much passion and joy in your organisation for the business. And our achievements, our growth in rank, our consistent growth in market share, are proof enough of how seriously we go after our goals. We continue this year again to grow way ahead of the category growth rate.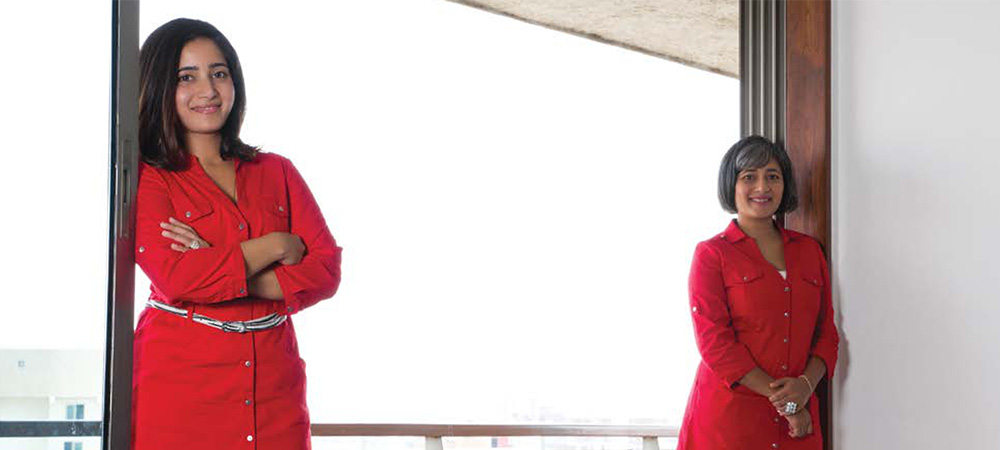 What was your first experience like when you joined Parle Agro?
Schauna: I actually started from scratch at the time when my father was separating from his brother. We sold a few of our famous brands at that time, so it was a completely new and challenging environment. The organisation at that time was focusing on its new business — the (PET) plastic business, which we were venturing into for the rst time. On the first day, I did not have a cabin. "Schauna this is your cabin, this is your secretary and this is your computer, now do whatever" — it was not like that! I sat with the team outside. I started working with the team and understanding the company, going through different functions of the organisation. At that time, there was no HR, there was an administration department. I took up the challenge of setting up and structuring a fully functional human resource department. Gradually, as I got more and more involved and sat through a lot more meetings with my dad, I made up my mind and finally decided to take on bigger roles. Marketing and branding is not my forte, operations are something that I excel at. While I take care of operations, which are the backbone of the whole organisation, my sister Nadia handles the creative strategy and innovation part of the business. Operations are to do with people, it is to do with money, it is to do with compliance, and these are the things I enjoy working on. Nadia says, "I do not know how you do it" and I say, "I do not know how you do it" because we complement each other.
Nadia: It's hard for me to really recall a specific first experience because I was always here. But here are a few: I remember when I was very young, I'd spend a lot of time shadowing my dad in our old office building where we had at that time our Thums Up bottling line as well. I remember being a big part of the Digen Verma campaign and the discussions with the agency that worked on it. Some of the early experiences included the launch of Jolly Jelly, which is a vivid memory. It was amazing. Today, while jelly products are available at every other corner store, when we launched Jolly Jelly it was absolutely a novel concept and we had to educate people that it was vegetarian. I remember standing at Juhu beach at our sampling stall and screaming loudly Jolly Jelly 100 per cent vegetarian! I'd love to bring this brand back someday.
What have been some of the biggest learnings as also the challenges in your professional career that have helped you grow as a better leader, a better person?
Schauna: In a workplace, you are always dealing with people and that is the most challenging part. Egos, insecurities, politics, competition, and so on, these are some challenges you will deal with every day. Quite frankly, I find that more challenging than actually dealing with those that come from a newly-formed strategy. Another major challenge is developing a robust leadership pipeline in the company. It's relatively easier to identify and assess experts in specific functional or technical arenas. But it is difficult to determine whether they have the required people skills, leadership capabilities, business breadth and global diversity sensibilities.
Nadia: This might not be the answer that you expect. But I believe the single largest factor that shaped me into being a better leader or a better person has been motherhood. It has taught me to have patience, to be compassionate and to really accept that no two people are the same so to really be able to access and expand each one's unique contribution.
Tell us about the chemistry you both have at work? Are you two very different people? How do you handle differences, if you may have, say, over decisions related to business?
Schauna: Nadia and I work together. We have a very different way of working. But certain qualities that we share are the passion that we work with in driving the organisation and the perseverance that we have in doing what we do, we don't like to take no for an answer and love asking the question — why?
Our values and principles that we work with are genuine and honest. We might not look eye to eye on some of the issues but we are always open to listening to what each other has to say and then work out what is best for the organisation. Our responsibilities have been defined well and that's what makes certain decision-making easier. But when we are totally stuck on something and neither of us would like to compromise on our decision then our father is the person we go to as his decision is the final one. And regardless of what decision he takes, we know that he is not taking any sides but it comes from far more years of experience, a far better understanding of the business, and also, he has such a sharp mind that 99.9 per cent of the times he is right.
Nadia: My sister and I are very different personalities. When my father inducted me and my sisters into the business, the key thing he did was to define each of our responsibilities based on our passion, skills, strengths and ability to contribute to the business. It made it so easy for us to settle down in our roles. We have our roles and responsibilities defined and hence there are hardly any differences that arise. If there is a conflict of opinion, we try to understand each other's point of views and then come to a decision that is in best interest of the business. We make it a point to have our lunches together where we discuss business and bond. As a team, we have it all. It is a blessing that we are as different as we are, because we complement each other's skills and together we can make anything possible.
What is the work culture you have created at Parle Agro like?
Schauna: While we are a family-oriented company, we are also very professionally driven. We are a young, dynamic and progressive company that believes in keeping up with the changing times and consumer demands. We start as early as 8.30 and get done at 5 pm which gives our employees a lot of time to strike that perfect work-life balance. We encourage people not to work longer.
I do not believe in emails — something I totally discourage at all levels. I strongly believe in using emails for documenting the conversations so that it is placed on records like when you have decided something with someone so that you can always refer back to that email. However, do not use it to strategise or chat so you see half of the time people are on their computers going through 500 emails. I feel it is a waste of time and people forget they have to meet people, they have to interact. Unless you interact you do not get good ideas, you do not understand the body language. I feel people are forgetting this human touch where you have to personally meet sometimes to discuss things. The open-door policy that we follow in our of ce makes me very approachable and the employees more comfortable.
Nadia: Culture has been a very important part of our growth journey. The culture is one which is passion lled, determined, one of great pride in who we are and what we do. We have an open–door policy. Literally, we have no doors! Our cabins are all glass, including my own. This is to further the value of the company of being transparent, approachable and open.
What is your leadership and management style?
Schauna: I never joined the business to become rich. I wanted to make a difference to the people who work at Parle Agro. My first step as a boss was to smarten up. I believe one should never start thinking you know it all because that's never going to happen. I do not have doors to my cabin space. The open-door policy makes it easy to interact with people, who feel that I am approachable. I believe it's all about the team. So ensuring that you have the right team with the right kind of guidance is most important.
Nadia: I have a wonderful leader in my father and I like to follow his approach in leadership. In my opinion, a leader must give vision and courage to the team, and empower the members to bring the vision to life. I believe everyone should have a voice and everyone de nitely has a point of view and I feel as a leader it is important to ensure that everyone's point of view is addressed and heard. It doesn't matter if you agree with it but it's important that the point of view is out there because that leads to healthier decision-making and team building. Empowering people and respecting them is very important because everyone has ambitions and passion and it is important to nurture that. My leadership and management style tries to stick closely to this virtue, and I believe it has worked well and contributed to overall company success.
What do you think are some of the traits leaders should have, particularly, in today's fast-changing and at times 'disruptive' business world?
Schauna: 1. By doing a couple of important and very simple things like listening, being aware, knowing the details of the situation, understanding the complete issue and then make a decision together with the team.
You have got to have the guts to take on challenges and try new things by being rst in whatever new you try.
You must always know what everyone else is doing in your industry but you have got to spend time focusing on your goals as well.
Nadia: Leaders should be open to constant evolution themselves and in their approach. Leaders should be passionate and brave.
What are your views on disruption in today's business scenario? New technologies, products and business models are fast changing the market dynamics. How should Indian companies approach disruption?
Schauna: Disruption is a big opportunity for Indian companies. Large companies are much like individuals who have reactions when it comes to accepting sudden change. When faced with such change, or just the threat of it, we rst give way to feelings of fear, uncertainty and doubt, followed by a period of denial, anger and nally acceptance. Everyone rushes to the same solution since they feel they absolutely have to do something to keep up with their peers. In such a scenario, leaders need to hold the hands of the people they are leading, not sit half a world away.
Nadia: Why is this question specific to Indian companies? Our market is extremely fertile and one with immense potential. Companies, Indian or from other parts of the world, are all looking at being able to exploit the large potential of our very fertile market. Some companies follow a 'me too' approach with their products and offerings, and because our market opportunity is so large, they seem to be surviving, but many young entrepreneurial ventures are focusing on innovation. And today more than ever before India has been accepting new concepts, new products, new propositions…. I believe India is a country that is innovative and indigenous, and this market environment is one which will lead to tremendous growth opportunities.
Innovation has been a key priority for Parle Agro. How do you nurture and support innovation and disruption within the organisation? Is disruption a priority for you?
Schauna: Innovation and disruption has always been a key priority at Parle Agro. We believe in taking on challenges and trying new things by being rst in whatever new we try. We do this by keeping an eye on what everyone else is doing in the industry and then spending enough time focusing on your goals. Don't drive your business by looking at the competition; that is always a recipe for disaster. Our open culture has been a great driving force for people to communicate and share ideas with the team. This has resulted in several successes that have got us where we are today.
Nadia: Disruption through innovation has always been a priority for us, and in today's times, we find this value to be of utmost importance to our success. We employ various practices across verticals and teams that drive our employees to constantly innovate.
Parle Agro's favourite mantra is: "The lesser we imitate, the more we innovate." This is something we all live by. You will never see us conducting a rampage of launches with a 100 new things at a time.
We spend a lot of time researching and developing products and then we spend more time building them up. The company focuses on one project at a time. Our products cannot already exist in the market, it's a basic prerequisite. We created a history of successful products by creating new categories of our own, not copying. We spend a lot of time innovating and researching to give our customers new experiences and new products.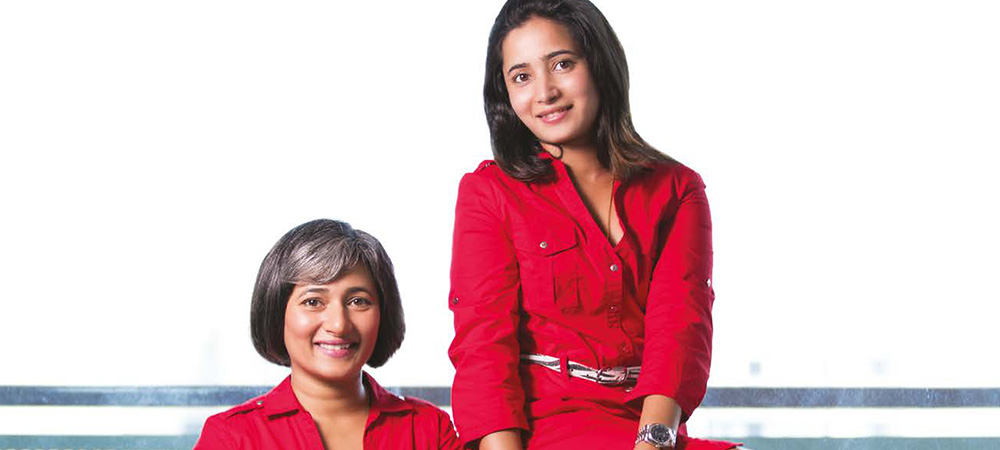 How should companies build the workforce for future? Companies will have to become more agile and change fast to new business realities. How can CEOs and MDs ensure their teams have the adaptive quality that can handle any change?
Schauna: In the business, adaptability entails being open to new ideas and concepts, being able to work on an independent basis or with a team as the situation demands. Your team should be encouraged to explore different avenues for fostering creativity and accomplishing work goals with a new mindset. CEOs and MDs should encourage an environment where change is embraced, even when ambiguity is involved. The ability to maintain or shift focus in accordance with an organisation's changing priorities is another critical skill that indicates higher levels of adaptability and exibility in employees.
Nadia: As far as Parle Agro is concerned, a few years ago I set up a transformation organisation. The Chief Transformation Officer and his team are responsible for identifying the changing business realities, and what it demands from our organisation, and to accordingly equip our organisation to meet the changing realities effectively. This initiative has led to some massive transformation projects in sales and distribution, R&D, supply chain, analytics, and more. Which is what we believe has allowed us to achieve the kind of dynamic growth that we are registering today, way ahead of the category average.
Women are indeed moving up the corporate ranks, but disproportionately few reach the summit. Being women in the C-suite yourself, what do you think have been the reasons for very few making it to the top? How can this be changed?
Schauna: People have misleading preconceived notions about women. There are so many women today running either their own businesses or their family businesses, and thus creating a plethora of jobs and opportunities for others, which is eventually contributing to the overall economic growth of the country. There are so many women entrepreneurs or working women who have a good job and are earning an income, and utmost respect for themselves. It's not about whether a woman joins the family business or not, it's about investing in women and not underestimating their potential. It is in fact about changing the way we see a woman so that we set an example for others to follow. I heard this somewhere: "Women are the emerging market of the emerging market." I strongly agree with that.
Nadia: I don't like to answer questions that create the differentiation in the rst place. I know as many successful women as I know men. And I know as many failed men as I know women. It's every individual, his or her own priority and vision. Thereafter, their commitment towards achieving it, of which both men and women are equally capable of.
What are your passions outside of corporate life? Please share some examples of your initiatives outside corporate life?
Schauna: When I was in school and college I used to play a lot of sports, I was the captain of the hockey team, we owned horses, and we used to ride a lot, go to Amateurs Riders' Club at 6 o'clock every morning. I don't get to do that as much now. I believe that fitness is a maintenance activity meant to re-engineer and refuel your body every day. It is also one of the things that help you clear your mind and think better. I love sports, which is why I often alternate regular workouts with a swimming or tennis session.
Nadia: Outside of corporate life, I'm a busy mom constantly trying to put together plans to go on various travel adventures. I love new experiences of all kinds. I enjoy reading, I love music, I love animals and have many of our own, including a horse at our farm. I try hard to lead an active life — my recent two new initiatives towards this have been cycling and yoga which the kids join in as well.