Hidesign CEO Dilip Kapur traces the journey of his iconic brand that has risen from very humble beginnings.
It was the late 1970s when Puducherry-born, Sri Aurobindo Ashram-schooled Dilip Kapur came back to his hometown after studying at Phillips Academy, Andover and Princeton. His return was well-timed. On February 28th, 1968, some 5,000 people from 124 nations and 23 Indian states congregated to inaugurate the future township of Auroville in a solemn ceremony.
"We believed Auroville would create a model to change the world. There were people, rebellious and innovative, from all over the world. Puducherry itself was a quiet town, culturally led by Auroville and the Ashram," says Kapur.
In the last 49 years, this quaint little town on the Southern coast of India has certainly made a mark for itself in terms of heritage, travel and hide! Kapur has given Puducherry its most famous shopping address in the form of his internationally-acclaimed luxury brand – Hidesign, which has a current turnover of ₹160-170 crores. Meant for those who want to indulge in genuine leather goods that are sturdy, stylish and almost ageless, Hidesign was established in 1978 with a two-person artisan workshop once Kapur moved to Auroville from the States after completing his PhD. Thereafter, he started experimenting with leather as a hobby. "Friends and friends of friends started buying and selling them in Australia and the US. One day, I received a large order and realized I needed a workshop."
Interestingly, up until then, he had never thought of starting a leather business. But during his stay in the US, to sustain himself during the summer, he applied for a job at a Denver-based leather shop called Poor Richard's. This nine-month stint resurrected his love for leather that was "somehow in his blood" because of his father whose leather shoe factory burnt down during the Partition. "I had never seen him work with leather. But I loved working with leather at Denver, learning how to hand dye leather, cut it and assemble bags," says Kapur. Today, Hidesign products are made in three factories in Pondicherry, Ranipet Baddi, and Sikkim.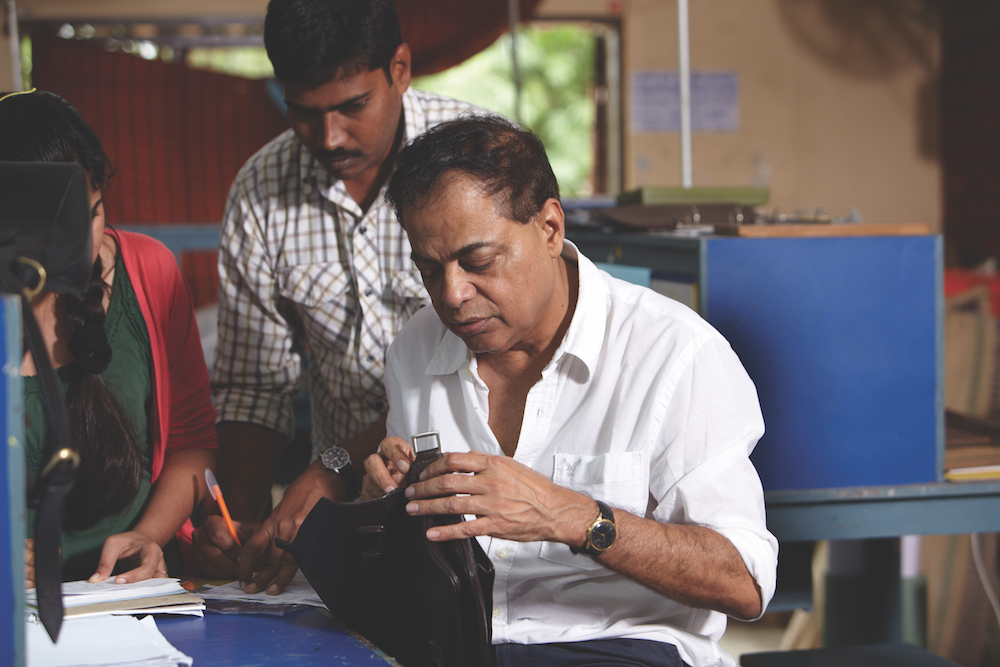 Known for its craftsmanship and innovative design, in India, Hidesign has 81 exclusive stores; it is also present in 160 shop-in-shops and major e-commerce platforms. Internationally, their distribution and franchise stores are spread across 23 countries that include Russia, Sri Lanka, Prague and Kenya; Indonesia and Dubai are in the offing. Since leather is the star of Kapur's show, he goes to great lengths to procure it from tanneries all over the world like Brazil, the highlands of East Africa, Europe, and New Zealand. From the time, he started working wholeheartedly with leather his curiosity has led him to explore the traditions of vegetable tanning in south India, probably the greatest centre in the world of vegetable tanning traditions. No wonder, he prefers, "Kerala as the climate and educated farmers ensure healthy animals," and a good quality hide.
Apart from the leather, Kapur is equally stringent about the dyes used at Hidesign. His bags, which are known for earthy hues and natural finish, are made with Azo Free dyes certified by the European community. But Kapur insists that it's not the dye that makes Hidesign special. It's how they tan it and with what! "We avoid chrome tanning as chrome is carcinogenic and a major polluter. After a lot of research, we have developed fashionable leather, which is vegetable-tanned using the seeds and barks from trees." Even the brass buckles on the bags are sand-casted and polished by hand at their own brass forge. When it's time to stitch the bag, Kapur's group of well- trained craftsmen use their hands to sew up the pieces together.
The brand also has a lot of international collaborations to boast about. In 2007, the hallowed house of Louis Vuitton bought a small stake in Hidesign. At the moment, Kapur works extensively with talented artists and designers across the world like José Levy (ex-Creative Director, Emanuel Ungaro), Fabian Lintott, the photographer Dinh Thi Thien in Paris, and so on.
Creating bespoke products by hand represents the core philosophy of Kapur's life that there is great beauty in simplicity – a lovely thought process that was nurtured during his upbringing at the Aurobindo Ashram. His spiritually-inclined father sold off his business and joined the Ashram when he was five years old. He grew up in Puducherry with his sister Neelam and parents, and has fond memories of studying in this sacred place. "The free system of education, the extreme simplicity of life and the values of the ashram strongly in uenced both my values and aesthetics and these still continue to in uence the direction of Hidesign," explains Kapur.
Despite receiving no formal leather training, Kapur has continued to push the boundaries of his brand at a conscious and sustainable scale. Apart from being heavily impacted by the Ashram, Hidesign has been built on the principles of discipline, purity and a thirst to create a home-grown leather brand that has an incredible aura of its own.
Kapur has always designed his bags. At the moment, Hidesign has a design team in Puducherry, with a couple of designers in Paris and London. But majority of the design work is done in house. "I have never formally studied design; I think design is a re ection of your culture and values, of being simple, clean and natural, and avoid following fashion diktats."
As a serious entrepreneur, a grateful Kapur continuously thanks his alma mater for shaping his mind and his brand. "In the Sri Aurobindo Ashram, I was part of the free system of education. I later moved to Phillips Academy, Andover and then Princeton. The school at the Ashram gave me the freedom and the ability to think independently. Phillips Academy, one of the toughest schools in the United States, taught me discipline and ambition. Princeton taught me to think and solve problems, while the Cultural Revolution in the late 1960s at Princeton greatly influenced my rebellion against uniformity and a plastic culture," he says candidly. So it comes as no surprise to know that he didn't do any R&D before setting shop in Puducherry. He designed by gut.
For Kapur, bag making is a craft, with a sense of lifestyle but a lot of it is instinctive and comes from a love for the craft and natural materials.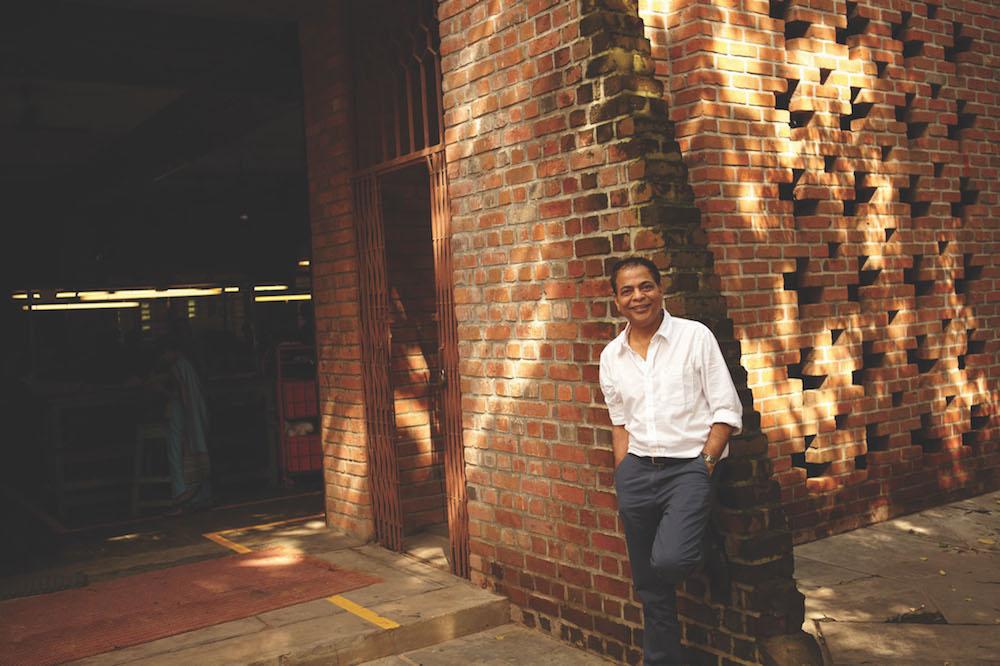 Apart from making bags, in 2014 Kapur diversified into making shoes. It was a natural progression for him since he has always seen Hidesign as a lifestyle brand in accessories. "I used to make handcrafted sandals in 1981," he reveals!
Even though his hands are full with Hidesign, Kapur puts in as much enthusiasm and effort into his hotels Promenade and Le Dupleix. "The latter is where Hidesign started, and when we moved to a custom made factory. Le Dupleix was the greatest governor of French Puducherry and when his house was torn down we bought the wood work and recreated it at Le Dupleix, and named it in his honour. I love the lifestyle that hotels can create where people connect, bring families together and great joy is created."
At Le Dupleix, innovative heritage preservation combines with modernity and the original culture of French Puducherry. As for The Promenade, it's the modern buzz of India teamed with local culture. The Storytellers' Bar at the same hotel is a big hit with the crowd. It's the creation of Simran, the founder of Blue Frog, Ayaz Basrai of The Busride Design Studio, and Kapur's desire to have a crazy place full of interesting people in Puducherry. "Both hotels symbolise Puducherry; they are truly connected to the local but belong to a modern lifestyle, which is global."
In between all his work, his zest for life and affection for leather, there's one place that continues to guide his sense and sensibility, and nurture his soul. It is Auroville! He came back from America, because he wanted to be a part of Auroville. Living in a sprawling house amidst natural beauty, away from the noise and the crowd, in the middle of the Auroville forest is one of Kapur's greatest pleasures. "I love being surrounded by nature. I can't survive big cities for too long," he shares.
Known for its experiential feel and vibrant vibe, Auroville stands for other values like sustainability and ecology, says Kapur which are at the heart of its goals. "The afforestation at Auroville where three million trees have been planted is one of the greatest examples of successful mixed tree planting in the world." As part of its CSR initiatives Hidesign has also been active in educational research and ecological work like planting a forest and medicinal plants in Auroville.
Kapur is as much a family man as he is a happy capitalist. He has four children (Vikas, Akash, Ayesha and Milan) between the ages of 43 and 21. "I have a wonderful relationship with all of them. I am not an ever present father, speaking every day, but I love my time with them and always look forward to whatever time we can  nd together." Like all other dads, his Sunday starts with flipping pancakes — a well- guarded family secret for his children. Even while making pancakes, he sticks to natural and organic ingredients like healthy grains, fruits and nuts. The word "love" is omnipresent throughout Kapur's conversation. Apart from the many loves of his life, dogs also occupy a big chunk of his heart. He had three great dogs that grew up together, Tia — a Great Dane, Blondie — a Labrador and Bungu — a mixed breed. Unfortunately they all passed away over the last two years. He now has Pablo, a Rhodesian ridgeback who just entered the family home a few days back and his children are already fighting over it.
In his free time, Kapur teaches international affairs at the Auroville School. That's his way of staying touch with the constantly growing Auroville youth brigade, who "sometimes are great and sometimes a pain with their lack of interest in the world!"
Something else that keeps him busy is his work with heritage preservation groups of Puducherry where he has helped liaison with the government and met with considerable success. By far, they have managed to keep the overall image of the French Puducherry alive and kicking although it is always a "challenge from the government and developers" tells Kapur.
From the time he started Hidesign to where it has reached, Kapur has always set his mind on building the brand slowly and steadily, without following the clichéd norms of society, business and the world per se. He has build a brand with his heart and he's going to ensure that in the days to come it establishes a clear identity as an international leader. But it has to be an identity that Hidesign has always lived with – "beauty in the natural, sustainable and ecological and crafted by human hands that care."
The Auroville Mother Mirra Alfassa once said, "Do not pretend – be. Do not promise – act. Do not dream – realise." These words embody Kapur who lives life on his own terms, creates something new every day, drinks red wine and even rides an Enfield. He is tote-ally inspirational!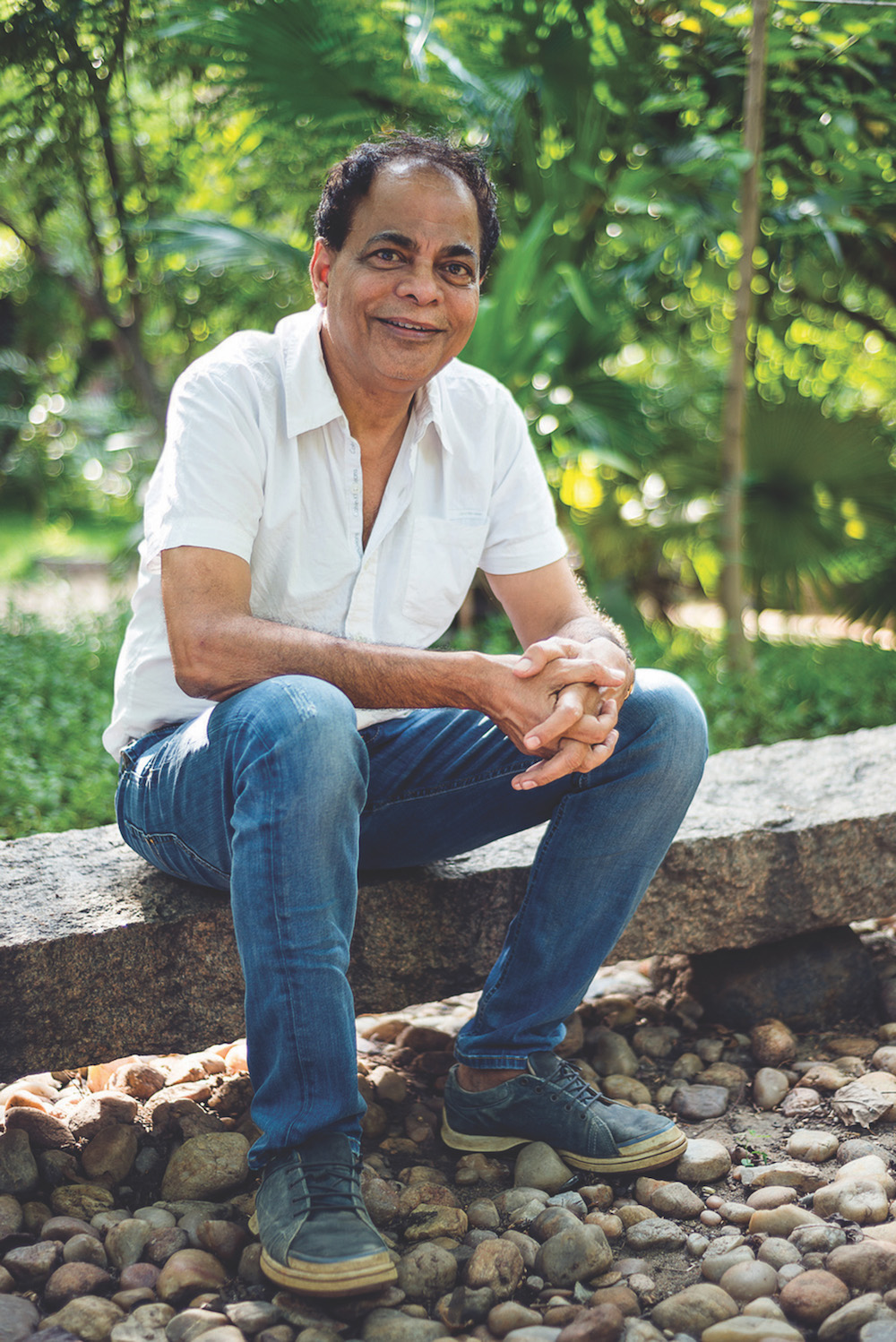 Personal Memo
What is a day in your life like?
I love routines. Unfortunately I do spend at least 10 days travelling in a month. At home I start with a set of yoga and physical stress-relief exercises followed by meditation and a fruit, Auroville- honey and bread breakfast since I have a terrible sweet tooth. I go to work by 9.15 am. Lunch is with people in the of ce around a large table, maybe a visit to the factory and lots of meetings! I walk around the French town right after lunch. Some hours after that are purely dedicated to designing. I am back home by 8 PM.
How do you prepare for important meetings?
By jotting down notes in my diary.
How do you motivate your staff in India and abroad?
I try and talk to them; give them freedom, do reviews regularly, and ensure I spend a lot of working time with them.
You're lover of red wine. Which wines do you enjoy the most?
I do enjoy Bordeaux a lot especially from the Saint-Émilion region. I just visited Châteauneuf-du-Pape in Rhône, France – it is another set of red wines I enjoy. I like deep, red wines.
How do you unwind?
By reading and sipping a glass of red wine with a very light dinner salad.
What is your greatest indulgence?
Lazing around on a Sunday.
International brands that you dig
At a global level, Kapur admires the clean simplicity of Hermès and Bottega Veneta, the engineering and marketing brilliance of Louis Vuitton and the fashion edginess of Gucci and Burberry.
What are your hobbies?
Reading, long walks in the forest and travels to natural rainforest areas like Danum Valley Conservation Area in Borneo, the African grasslands of Masai Mara and swimming at our beach.
What kind of music do you enjoy? Your favourite movie and song?
I love music from the 60s and 70s, from Tim Hardin, Grateful Dead, and Simon & Garfunkel. Among the current musicians, I enjoy working out in the mornings to Sia.
What kind of coffee or tea do you like?
I don't drink coffee or milk teas. I sip on green tea mostly.
What is your kind of cinema? A few favourite films….
Harold & Maude is a very funny movie I watched recently at the Auroville theatre. Otherwise, it's Satyajit Ray's Pather Panchali and Woody Allen films.
What watch are you wearing at the moment?
It's an IWC and I'm not crazy about watches.
What kind of books do you like? Please name a few favourites.
I've recently read the Man Booker Prize winner – Lincoln in the Bardo by George Saunders and before that I read The Vegetarian by Han Kang.