Ananth Narayanan came to Myntra with little experience of fashion but he is well on his way to making the online retailer a force to reckon with.
In 2015, when Flipkart hired Ananth Narayanan, then a 38-year-old director from McKinsey, to run its newly-acquired fashion retailer Myntra, the young CEO set up a herculean task for himself: To make Myntra India's  first profitable large e-commerce company. At a time when the top e-commerce companies in India, be it Amazon, Flipkart, or Snapdeal were bleeding, such a proposition sounded quite far-fetched. Discounts to lure customers and keep sales volumes high were piling up losses for most e-commerce players. Myntra wasn't an exception.
A little over 2 years later, Narayanan's mission, while not achieved yet, looks well on track. In August 2017, the company declared its private label business, called Myntra Fashion Brands (MFB), profitable. MFB makes for 23% of the company's business. Myntra now expects to turn EBITDA pro table soon, perhaps in a month or two. "We are ahead of target in turning EBITDA positive and will announce that soon," says Narayanan.
How did Myntra's young CEO manage to get his company on track? He certainly got his initial priorities right — to cut costs, streamline processes, and shift the focus on higher-margin businesses. Through careful inventory management, Narayanan was able to cut discounts and supply chain costs by a few percentage points. While discounts were slashed on popular products that customers were willing to pay full price or near full price, supply chain costs were brought down by increased use of technology and economies of scale.
A big boost to profitability came from Narayanan's drive to reinvigorate the private labels business. The company owns 13 in-house brands, or MFB, whose margins are higher than those of third-party brands. In the past, these brands contributed a decent 14% to the platform, but weren't scaling up. Narayanan felt their potential was not fully tapped and there was room for growth. "One reason they weren't growing was lack of importance. The moment you declare them important, people pay attention to them. Shining a light on MFB was one big reason it started growing. Second, we genuinely improved the products," he says. MFB is today a profitable business and the company expects to grow it to about 30% of sales in the days to come.
The strategies Narayan implemented at Myntra have been geared to the rapidly growing e-commerce market. "My initial objective was to build upon the strengths and offer greater value, which I knew would help us have a large set of repeat customers, along with a steady focus on acquiring new customers. I focused on improving unit economics, improving the NPS and bringing more brands, which has helped us on our journey to becoming the first profitable e-commerce company in India," he says.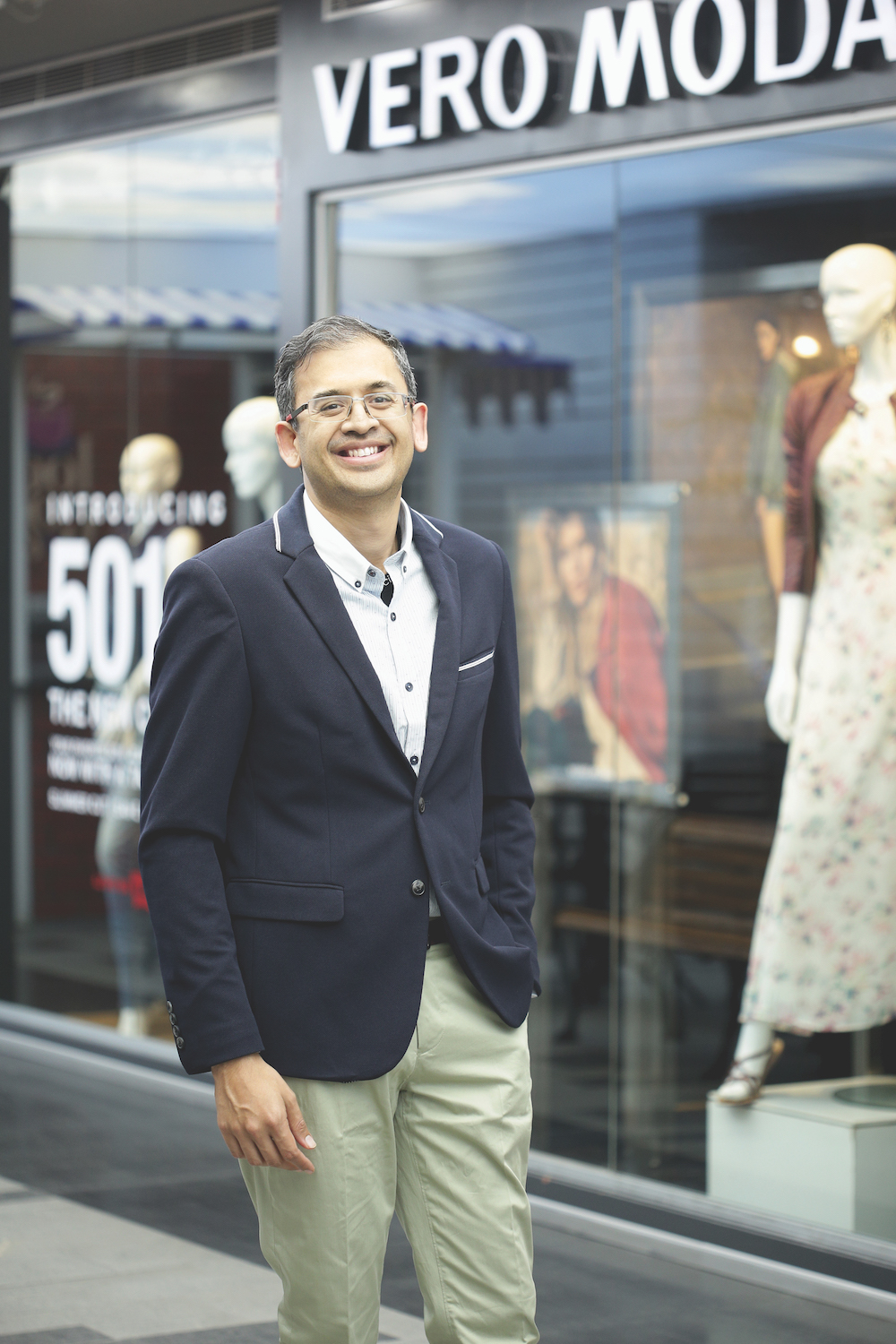 How does Myntra position itself in the larger fashion space, a burgeoning market expected to grow manifold in the coming decade? "From a macro perspective, brands are an important factor in order to attract consumers," Narayanan says. "We are constantly on the lookout for domestic and international brand associations. We use technology as one of the most important tools to not just understand our consumers, but also to map and forecast trends, to develop new designs and styles, and to improve overall consumer experience. The contribution of private labels to profitability needs mention as higher margins in the segment help us with higher revenues."
Narayanan adds, "At the end of the day, it's really the simplest strategies that are the most effective. It comes down to the age-old adage of creating and passionately/relentlessly driving the vision, building a stellar team, and  nally enabling your team with the right tools and motivations to execute."
Narayanan was born and spent his childhood in Chennai, where his father held senior roles at Hindustan Motors and Bosch. At school, apart from academics, he was interested in painting — for which he won a national level prize — and actively participated in jamming and debates. He studied mechanical engineering at Sri Venkateswara College of Engineering in Chennai and went on to pursue his Masters in Industrial Engineering from the University of Michigan in the US.
After his Masters, Narayanan wanted to take up an engineering job and he even accepted one from Cummins Inc. But, at the campus, he was also interviewed by McKinsey & Co., a company he hadn't heard about until then. In the end, he decided to go with the latter as he was extremely impressed by the interviewers.
The next 15 years, Narayanan worked with McKinsey & Co. across Chicago, Shanghai, Taipei, and Chennai, and went on to become a director. His role entailed leading the firm's product development practice in Asia and working with companies on strategy, operations and organisation. Recalling his early days at McKinsey, Narayanan says, "My first role over there was that of an analyst. I remember we were working with a large car manufacturer in the US and I was assigned the task of working with the client team and reducing costs by about 15%. I was immediately sent to the fore without any formal introduction or training and had to learn on the job."
The years at McKinsey shaped him into the leader he became and imparted the important skills of helping realign companies to grow. Narayanan says the most valuable leadership lessons he learnt at McKinsey were "the importance of humility, attention to detail, and learning to leverage the strengths in others. These have helped me time and again across various geographies and assignments."
What convinced Narayanan to take up the top job at Myntra? "I was introduced to the founders of Flipkart through a common friend and I thought I could relate to them and their vision of building a new-age company," he says.
Narayanan admits he knew nothing about fashion trends when he joined Myntra. "To prepare for the job, I got some of my fashion designer friends to teach me the basics of fashion. Even now, I spend half an hour every week just learning about fashion," he says. "Fashion is in the DNA of Myntra; one cannot run this organisation without knowing about it."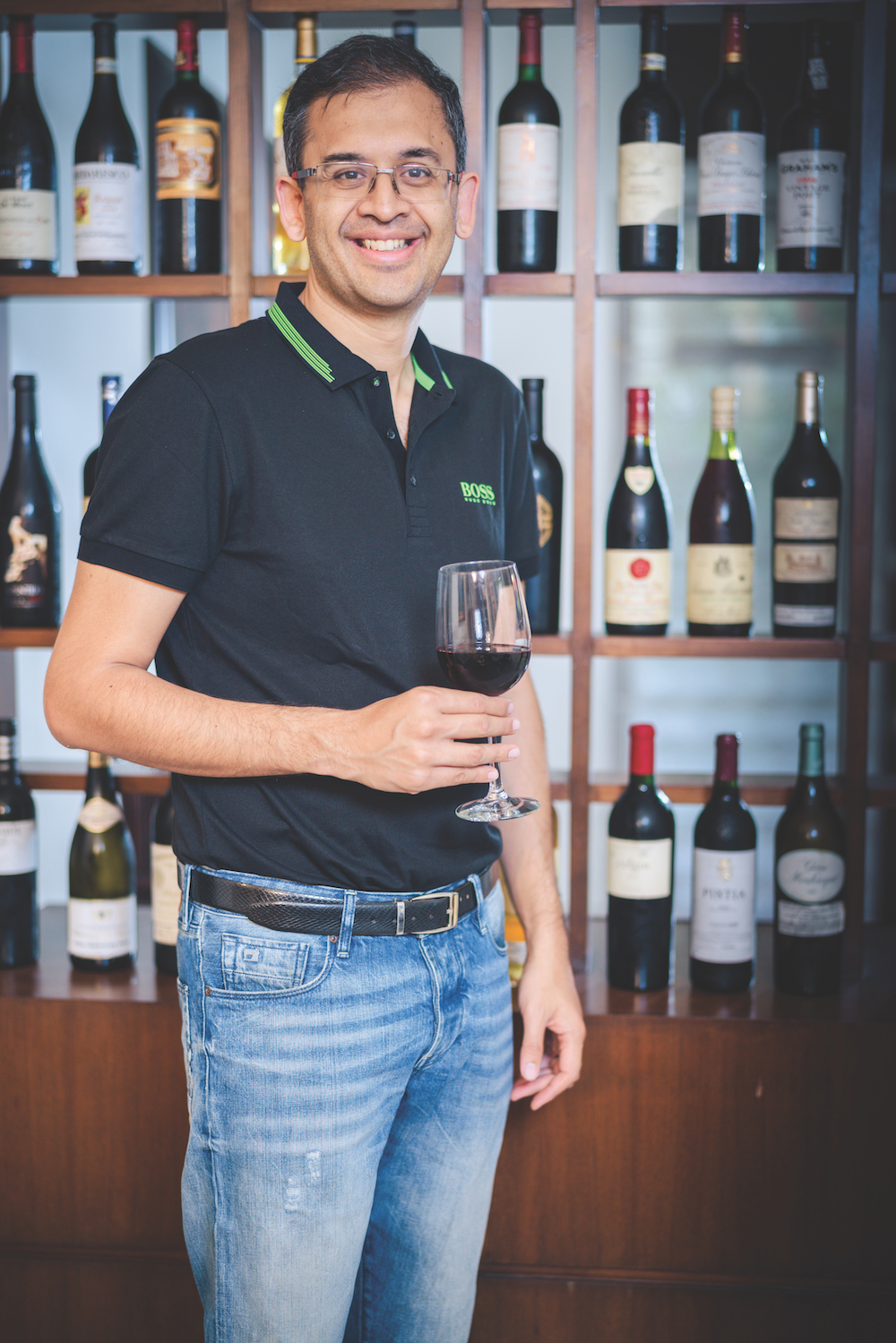 From McKinsey to Myntra is quite a shift, but the motivation to disrupt fashion keeps Narayanan going. "I truly believe it can be done across the value chain: how you build brands, how you distribute/sell them, how you offer services, and the overall customer experience. Concepts like spring-summer, fall-winter don't really apply to India. Most of the country experiences only summer. Some parts have summer and winter, not much else. So this traditional retail way of selling fashion is ripe for disruption," he says.
He sees technology playing a key role in driving this change. "Using technology to solve fashion problems at scale is what is needed. Technology allows us to not only to innovate on front-end customer facing experiences, but also drive significant efficiencies in the back end and truly build defensible moats."
Myntra today is already India's largest fashion e-commerce company. Narayanan's vision for Myntra is to build it into the country's largest fashion destination in the next  ve years and be the supplier of private brands to the world.
With so much on his plate, how does Narayanan make time for family? He is married to his high school friend Sandhya. They have three daughters — Nayantara, Shreya, and Aarya. Two Golden Retrievers complete the family. Sandhya runs a family-owned chain of diagnostic labs, Ehrlich Laboratory, in Chennai. Narayanan says, "Sandhya is always calm in any situation (a quality I wish I could have more of). She does an amazing job of multitasking — running a successful business and managing me and our three kids."
Narayanan admits running an e-commerce company is a 24×7 job. "There is always one more problem to solve. Though I have very little time to spend with family, I believe it's the quality of that time that matters. I try to be there for all my work commitments as well as my family. I generally keep evenings for my wife and daughters — that is the only time when I am not working. All three of my daughters, especially the middle one, have lots of stories to share with me," he says.
Narayanan is an oenophile and boasts a collection of over 1,000 wines, stored in a cellar in Chicago. His favourites include Almaviva (originally made by the Rothschild family), Château Palmer, and Colgin, a Californian wine. He says his passion for wine began when he had his first sip at 23, after his graduation ceremony. "It clearly left a passionate after-taste."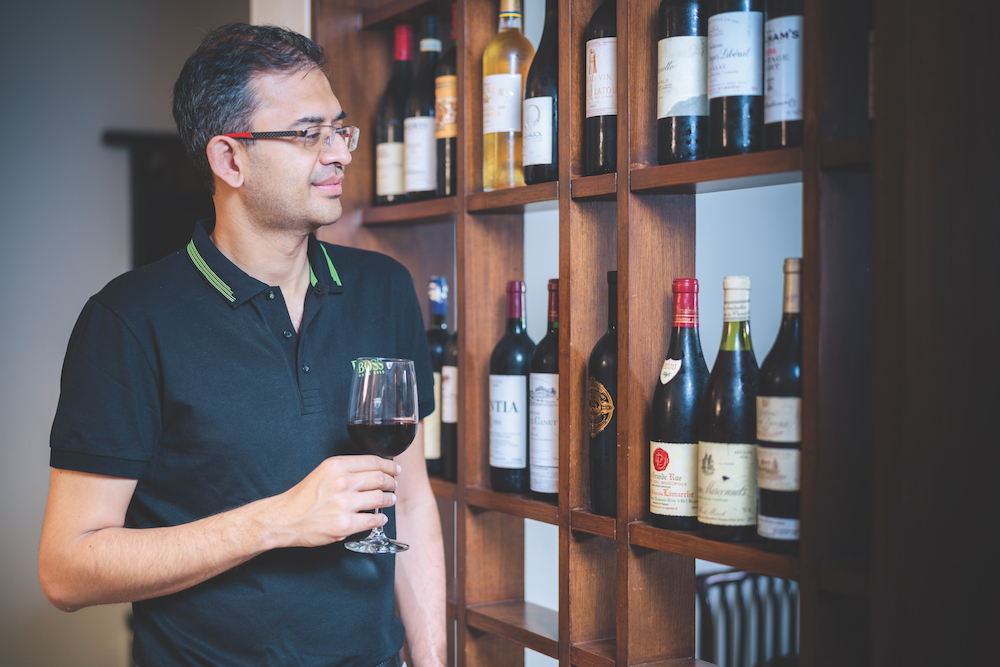 "Wine is the perfect conversation starter, its origin makes for an interesting story to narrate, and its collection is a scholarly hobby to pursue. I am a regular at The Wine Connoisseurs Club, where I enjoy interacting with like-minded people and take pleasure in understanding and having conversations about wine," he says.
Over the past 17 years, his love for wine has taken him to Bordeaux, Tuscany, Sonoma, Napa Valley and Malbec. "Vineyards make great vacations and I take one every two years. It is good learning and countries like Spain support it with great food."
Besides wine, Narayanan also likes collecting modern Indian art. His parents started collecting Indian art almost 40 years ago, so he grew up liking art. "I feel Indian contemporary art has really come of age in the last 15-20 years. Apart from more classic artists like Ram Kumar and Ramachandran, I like to discover emerging artists. One of my favourites (he does abstracts) is Viswam," he says.
With Myntra, as part of its CSR initiative, Narayanan is working with homegrown weavers and promoting the handloom industry. Through this initiative, Myntra is engaging with artisans and trying to preserve the country's rich textile and cultural traditions. "We are offering all the necessary assistance to hundreds of weavers to participate in the online boom and also garnering support from like-minded brands for the cause," he says. In line with this, the company recently launched its own handloom brand, Navibhu, that claims to offer an exquisite collection of over 250 styles of handwoven sarees, dupattas and stoles made by weavers. "This programme is only growing and will eventually touch several thousand weavers and both train and expose them to the bene ts of the online industry," he says.
On the work front, Narayanan is a big believer in 'collaborations'. "It is important and always helpful to work as a team. I once made the error of not asking for help when in need because most of us want to try and solve all the problems on our own. This often takes a long time and does not allow you to learn from past mistakes. I now seek help and opinion when needed and think collaborating with likeminded people for any task or project is a must."
With his teams, he says, he likes listening to their ideas and appreciate them when he sees a winner. "This motivates my colleagues to think deeper and deliver."
Narayanan is quite active on social media, especially Twitter, which he says serves as a great way to know what is happening around you.
When asked how brand conscious he himself is, Narayanan replies he turned brand conscious after joining Myntra. He quite likes Myntra's private brands. "'Ether' is fantastic. So are 'Roadster' and 'Moda Rapido'," he says. Besides, he is also a fan of Japanese casual wear brand 'Uniqlo'.
Where does the 42-year-old see himself 15 years from now? Will it be a vineyard or another corporation?
One never knows, Narayanan says, but he would like to own his vineyard in Karnataka and Maharashtra and see if he is as good in the wine business as he is at collecting them!
Personal Memo
What is a day in your life like?
I am a morning person; I wake up between 4 and 5 which is also my thinking hour and usually plan my long-term things during that period. On getting into the office, I first talk to my assistant to understand my schedule for the day. The most productive time of the day for me is usually in the morning, I try and close all important meetings before 2 in the day. I also try and do at least 2-3 external meetings. The evenings are reserved for my kids.
Five interesting things in your office….
The first has got to be the lack of cabins. Everyone, including the leadership, sits in open cubicles and easily moves around chatting with co-workers while attending to their daily tasks.
The second is the most obvious one: the uniquely designed workplace which has won many awards for Myntra.
The third would be the cosmopolitan crowd which is synonymous with the city of Bengaluru itself, with people hailing from different parts of India and bringing their unique touch to the workplace environment.
Myntra being able to attract the top talent from the best universities and companies of the world. Since cutting- edge technology forms the backbone of Myntra, it's good to have the best brains at hand to keep Myntra ahead of the game.
Your ultimate holiday destination and why?
Spain is close to my heart, no less for its vineyards. I never tire of visiting that country and soaking in its natural beauty and the warmth of its people, not to forget its cuisine. I love to spend my time collecting vintage wine and reading up on its history.
What is your greatest indulgence?
I should admit, work is my greatest indulgence and passion. It is what keeps me ticking and I am constantly on pursuit to improving the way I deliver. I like new ideas and innovation that can make a difference to the way we work and improve efficiency.
What kind of coffee or tea do you like?
I love my home-brewed filter coffee the best.
What kind of music do you enjoy? Your favourite movie and song?
I love 80's rock as well as all music by AR Rahman. I like many movies. The Godfather and the X-Men series, very different genres but I like them both very much.
What's your poison?
Wine definitely or recently favourite single malt.
Favourite artists…
My favourite music is anything by AR Rahman, our very own musical genius, with Roja being a favourite. When it comes to western music, I have enjoyed the music festivals that frequently take place in Michigan, the university I studied.
What is your kind of cinema? A few favourite films
I like classic films. So Gandhi by Richard Attenborough always inspires. I also like The Godfather series, The Shawshank Redemption, and The Bucket List, all of which I can keep watching over and over again.
Any brands or designers you are fond of?
All Myntra private brands and labels.
Your ultimate watch would be…. Which one is on your wrist at the moment?
I'm wearing an Emporio Armani Silver-Toned Analogue watch, which I chose for its classic simplicity. What's more, it's also available on Myntra. My ultimate watch would the Omega Seamaster Diver, again for its classic appeal.
What cuisine do you enjoy the most? Any favourite dish?
I love home-cooked South Indian cuisine the most, a favourite being vetra kozhambu (a spicy rice curry) and molagu rasam (pepper soup).
What kind of books do you like? Please name a few favourites.
I have been reading more books on business successes in recent years. I would recommend Daniel Kahneman's Thinking Fast, Thinking Slow and Guns, Germs, And Steel by Jared Diamond.
Your inspiration and role model?
My father is one of my biggest inspirations as he ingrained in me the importance of developing leadership qualities both in oneself and in others. Another role model I have is my  rst boss at McKinsey who impressed upon me the need to remain humble and to spot talent in every member of the team.
How would you like to be remembered after you're gone?
I would like to be remembered for making a difference in the e-commerce space by using cutting-edge technology like artificial intelligence to create the most modern shopping experience for Indian customers.
If someone was commissioned to make wine for you, what notes would you like it to have?
I would like notes of chocolate, leather and coffee. I would want to be able to taste the fruit. I like wines with a bit of age where the tannins are starting to soften.