India's greatest showman – Subhash Ghai and his daughter Meghna Ghai Puri speak to us about jointly running the film school – Whistling Woods International, the unique father-daughter bond, the Indian movie industry and how the senior Ghai still breathes films, like no other…
Even though it has been 40 years since Subhash Ghai stepped into the big, competitive and fabulous realm of Hindi films, the memory of his tinsel-town blockbusters is still very fresh in our minds. Whether it was the rebirth theme in Karz, the serious goofiness of Jackie Shroff, Anil Kapoor and Naseeruddin Shah under the strict tutelage of the legendary Dilip Kumar in Karma, the budding romance between Mahima Chaudhary and Shah Rukh Khan in Pardes or the undying love portrayed by Akshaye Khanna in the unforgettable Aishwarya Rai-starrer Taal – Ghai's movies were a mix of everything that an audience ever wanted. There was a solid central theme, strong characters with distinct personalities, music that continues to occupy air space on radio stations even now and lots of adventure, fun and life.
The reason Ghai was able to give us such cinematic gems is because he started honing his skills to become a complete filmmaker from an early age. "I was always more attracted to dance, drama, and music than textbooks. I never missed a chance to participate in extra-curricular activities in school. Once, I even bunked a class with friends to watch Ten Commandments," he says. His mother, a teacher also greatly contributed in making him the man he is. She had a habit of making him read and summarising moral stories from The Ramayana and The Mahabharata. She introduced him to mythologies that fascinated him as a child. He used to love watching the ever-popular drama Ramlila at Delhi's Ramlila Maidan.
During his days at Vaish College, Rohtak, he optimised every opportunity to broaden his horizons as a playwright, actor and what not. He started singing and acting and was crowned the undisputed "hero of Punjab University!" By doing so, Ghai was trying to kill two birds with one stone. On the one hand, Ghai was regaling everybody with his histrionics and zest for drama. On the other, he was silently putting all his energy into creativity, turning every failure to his advantage. He even received a gold medal in dramatics at college.
Armed with such a passion for drama, Ghai like the happy, heroic protagonists of his movies used any hardships that came his way to create value via the medium of acting, humour and song. His parents decided to separate when he was 12. But there's not an iota of self-pity about the incident in him. Speaking about it, Ghai says, while growing up, he got a chance to experience a unique childhood and spent time with different families with a different set of values, views about life, rules, and regulations. "If I grew up in one family, I would have been a reflection of my parents! However, my whole upbringing had a lot of variety and later, this diversity was a part of my films as well," he explains.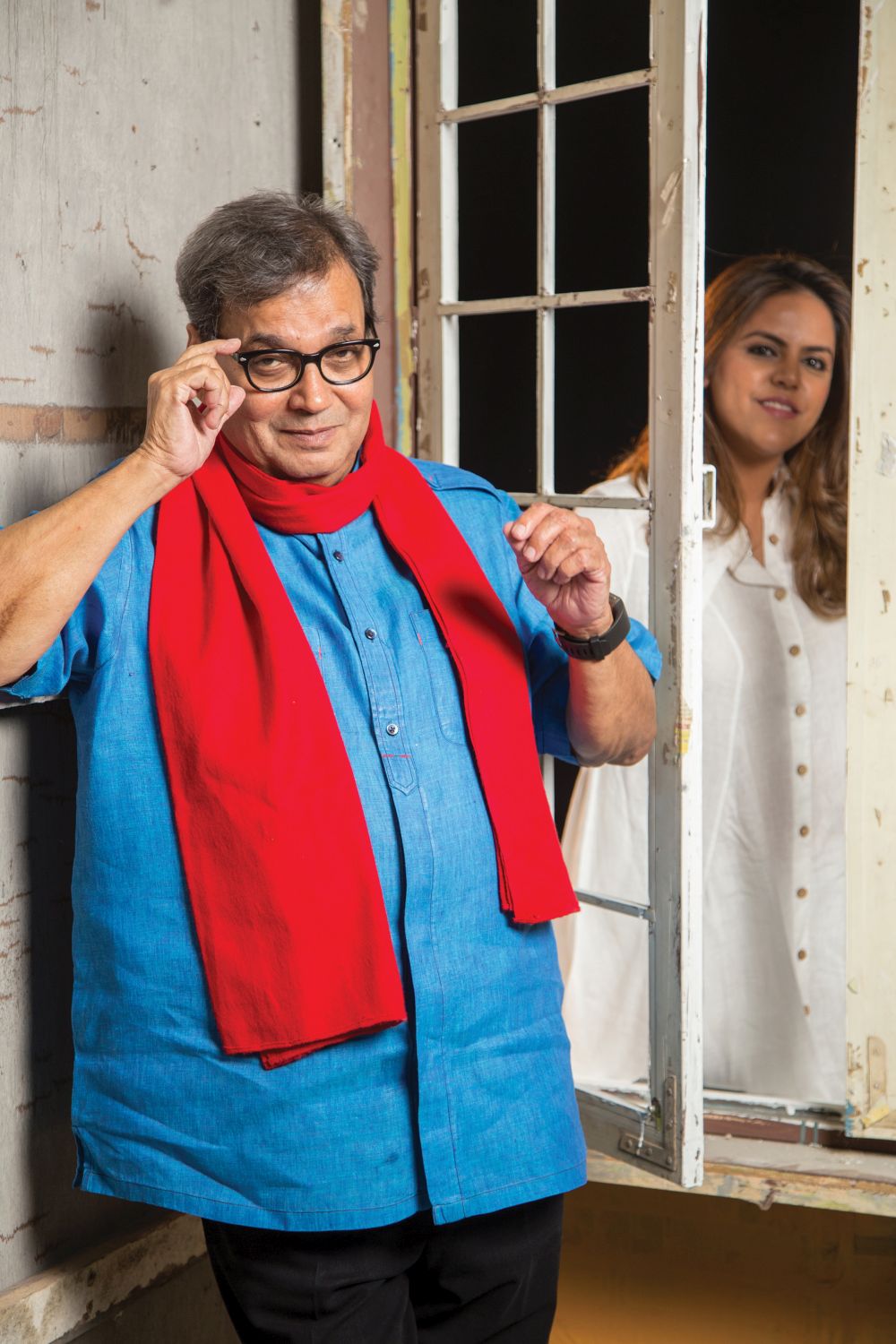 Born in Nagpur, Ghai studied at the Bishop School till class fourth. Thereafter, he joined his parents in Delhi and appeared for "higher secondary" examinations. Understandably, his childhood was way different from his peers. During holidays whilst he was in boarding school and when everybody went home, there were times he was left alone in the hostel with a cook and a guard! There was a deep void in his life but Ghai wouldn't never rue about his circumstances. He worked to fill up the void with "different amusements." He initiated three arts club at college and around holidays, he gathered all his local and talented friends to play music in his room.
After college, his father, a Delhi based dentist suggested him to pursue chartered accountancy. But he had no interest in numbers! Out of the blue, one day, his father called to tell him about FTII, Pune, suggesting he secure admission there. "I was shocked and surprised to the core. Later, I came to know that my principal had mentioned to him about my talents in the domain of entertainment and convinced him to send me to the movie world."
It was only after joining FTII where he was taught by the likes of the highly-acclaimed Indian-Bangladeshi filmmaker Ritwik Ghatak… Ghai seriously started thinking about cinema, and enrolled in the acting batch. On campus, he learnt everything in filmmaking from sound editing to direction. He connected with every department at the institute and emerged as one of the top three students in his batch.
FTII sharpened his skill set but his acting career didn't exactly play out like his blockbusters. "It was a string of failures for me. I practically went door to door with my portfolio but I was told that actors are not trained, they are born!" Ghai struggled for five years in a row post which, he started getting small yet less significant roles. Thereafter, he started writing stories for films and even managed to sell six stories to a producer. But neither of them turned into his lucky break.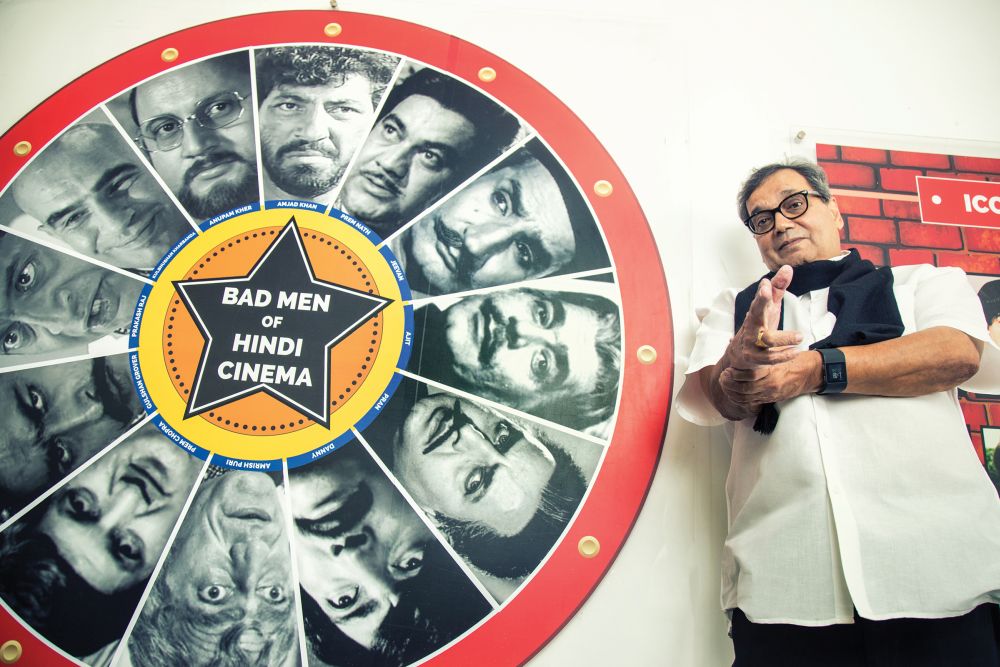 Ghai's movie-making technique is mainly through observation. He sees the world around him and writes stories that inspire him. Since he grew up in some very hard times, his characters are always shown in a deeply-rooted light. His avid reading habit in school helped him visualise stories much faster than others because of which as a director he chose to write his stories. Later on, he collaborated with writers like Sachin Bhowmick and Ram Kelkar. "They helped me craft screenplay writing for the audience rather than for myself. I visualise the movie while drafting the script. That's why I can explain the film in a narration rather than get people to read the script. I narrate visually and with all the relevant sounds so that the person listening feel like they are watching the film," says Ghai. As an eternal optimist, he makes no bones about the fact that sometimes the film came out exactly the way as he had thought it to be. But sometimes it didn't! "I breathe through my films and live with them until their release. I keep improvising on every step to enhance my storytelling," are Ghai's cinematic tenets.
When it came to casting the right actors, Ghai once again went back to where he came from – a humble beginning. "When I start working on a story, I start visualising the film. I work in detail the characterisation of each character. I have never had any fascination for stars, never. If the character needs a fresh face on the screen, I would cast a newcomer. Rather than focusing on the star value, I love to stay focused on the suitability of the character and do what is best for the film." He counts English director David Lean as one of his favourite directors and is deeply inspired by his epic movie, Dr Zhivago.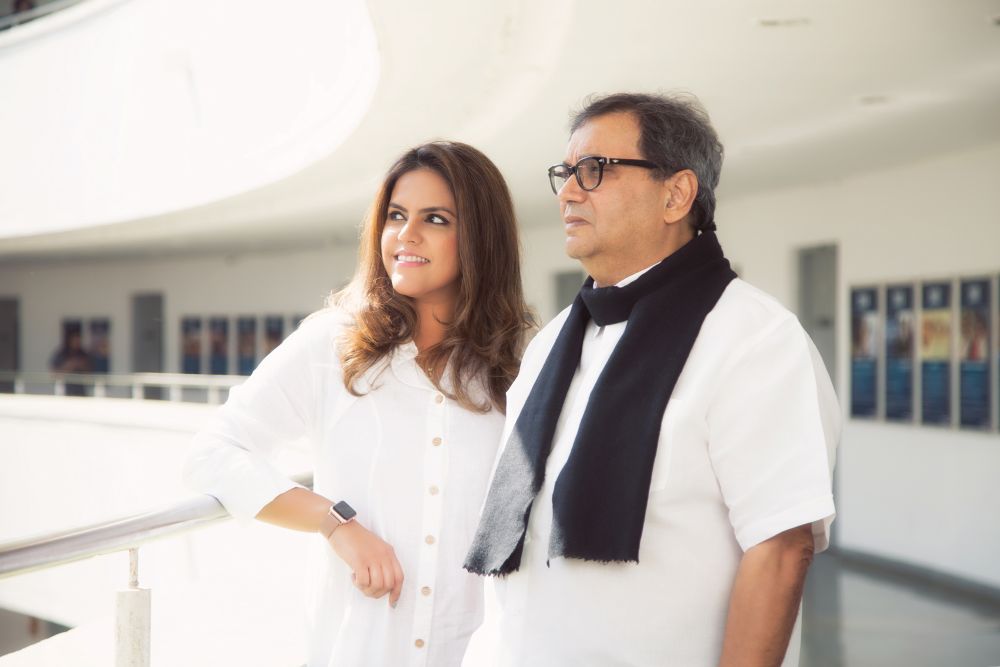 From the time he first appeared on screen as a supporting actor in Taqdeer, Ghai has made more than a dozen super-hit movies, which continue to be counted in the ranks of good, wholesome cinema. Over the years, he may have stopped making movies but they are an integral part of his life. His elder daughter Meghna Ghai Puri and he run Whistling Woods International – a filmmaking school that trains aspirants in the art of film-making, animation, online media, fashion and a dozen other things. Recently, they have launched the School of Visual Communication Design, a VR lab and intend to take Whistling Woods to other parts of the country as well. Some of their alumnus who are already making a mark in the Indian film industry include director Shashank Khaitan, who has delivered hits like Humpty Sharma Ki Dulhaniya and Badrinath Ki Dulhaniya apart from actors like Aahana Kumra from Lipstick Under My Burkha, Rajshri Deshpande from Angry Indian Goddesses, etc.
Whistling Woods International is the culmination of another of Ghai's dreams. "My father has always dreamt of building a film school. Actually, it was a promise that he had made to himself, while he started working in the industry and was struggling to make ends meet. I was working in the UK when my father asked me to head WWI," shares Puri.
When she started working at WWI, it was just a four-member team. It took them six years to put together a competent curriculum after visiting various film schools all over the world. "We worked together for everything, be it the architectural design of the building to course curriculum, faculties, marketing, finance, HR etc. Then we finally took in our first batch in 2006," she shares. WWI started out with 75 students. Today, after 12 years, there are 950 students at the school.
Apart from the dad-and-daughter duo, Puri's husband Rahul is also involved in WWI; he is HOD Academics. However, Subhash Ghai – the founder and chairman of Whistling Woods International will always be its epicentre reiterates Puri. "With the amount of knowledge, wisdom and experience he has, we are of course always seeking his advice. Sometimes I see myself asking him for advice and him trusting me enough to let me take a decision. This too is a great feeling," she explains.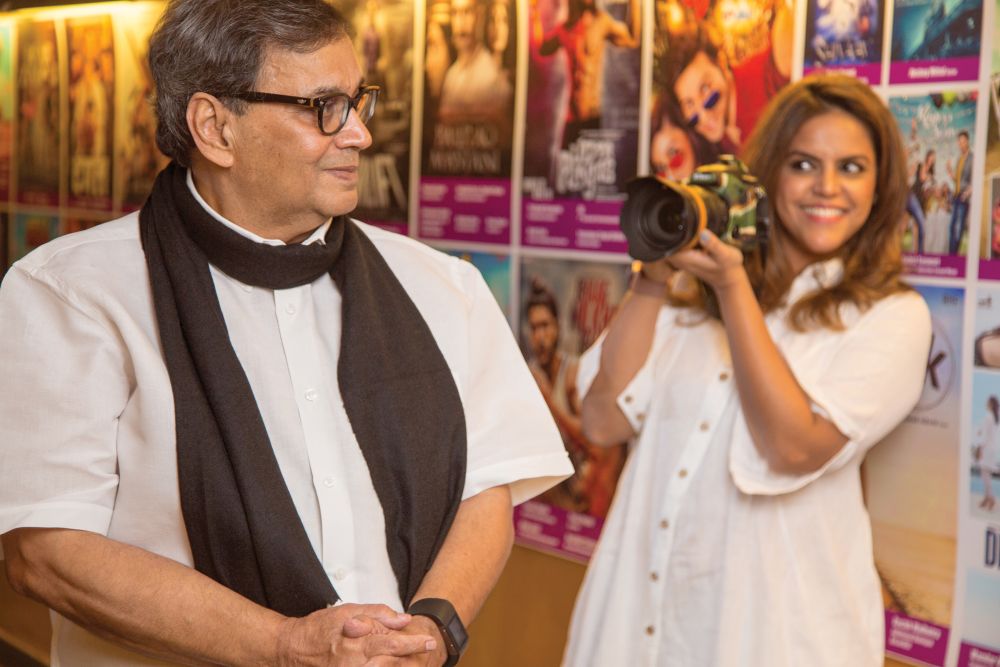 Her dad who also happens to be her boss is a "thorough professional and holds work as top priority." Initially, when Puri started working with him, it was difficult for her to separate emotions and develop an out-and-out professional relationship with him. Later, when she settled in and struck a chord of balance, she and her father began a great working relationship of mutual respect, trust and understanding.
Like her father, Puri is also firmly grounded to life. Growing up in cheery Bandra, Puri never felt any different from the others because she was Subhash Ghai's daughter. She went to Apostolic Carmel Bandra, a lovely simple school, made lifelong friends from different backgrounds and enjoyed a great amount of warmth while growing up.
Meghna and her sister Muskaan always had their mother Rehana around them, as Ghai has always been a workaholic. After completing her schooling, she went to the UK to study management at Kings College followed by a post-graduate course in communication, advertising and marketing from the CAM Institute, Victoria, London. That's where she met her husband Rahul Puri.
Ghai met his wife, Rehana Farooqui, (now Mukta Ghai) at FTII. It was a friendship that blossomed into love. She is his biggest support system till now. "Our relationship is rock-solid. She had no interest in joining the showbiz world and decided to be the perfect homemaker, a loving wife and a wonderful mother to our daughters. Meghna, my elder daughter is the President of WWI. She along with her fabulous team is actually fulfilling my dream of a world-class film school. My younger daughter Muskaan is still in school and is a young, passionate, talented girl!"
Through the school, Puri's ultimate dream is to have ìan institution that hones and promotes talent from the ages of 5 to 50." She wants every creative person who wishes to make a career in this dynamic industry to receive top-quality education. After all, Indian cinema, which according to Ghai has "come a long way", is a great place for people who like him are willing to sweat it out and make it big.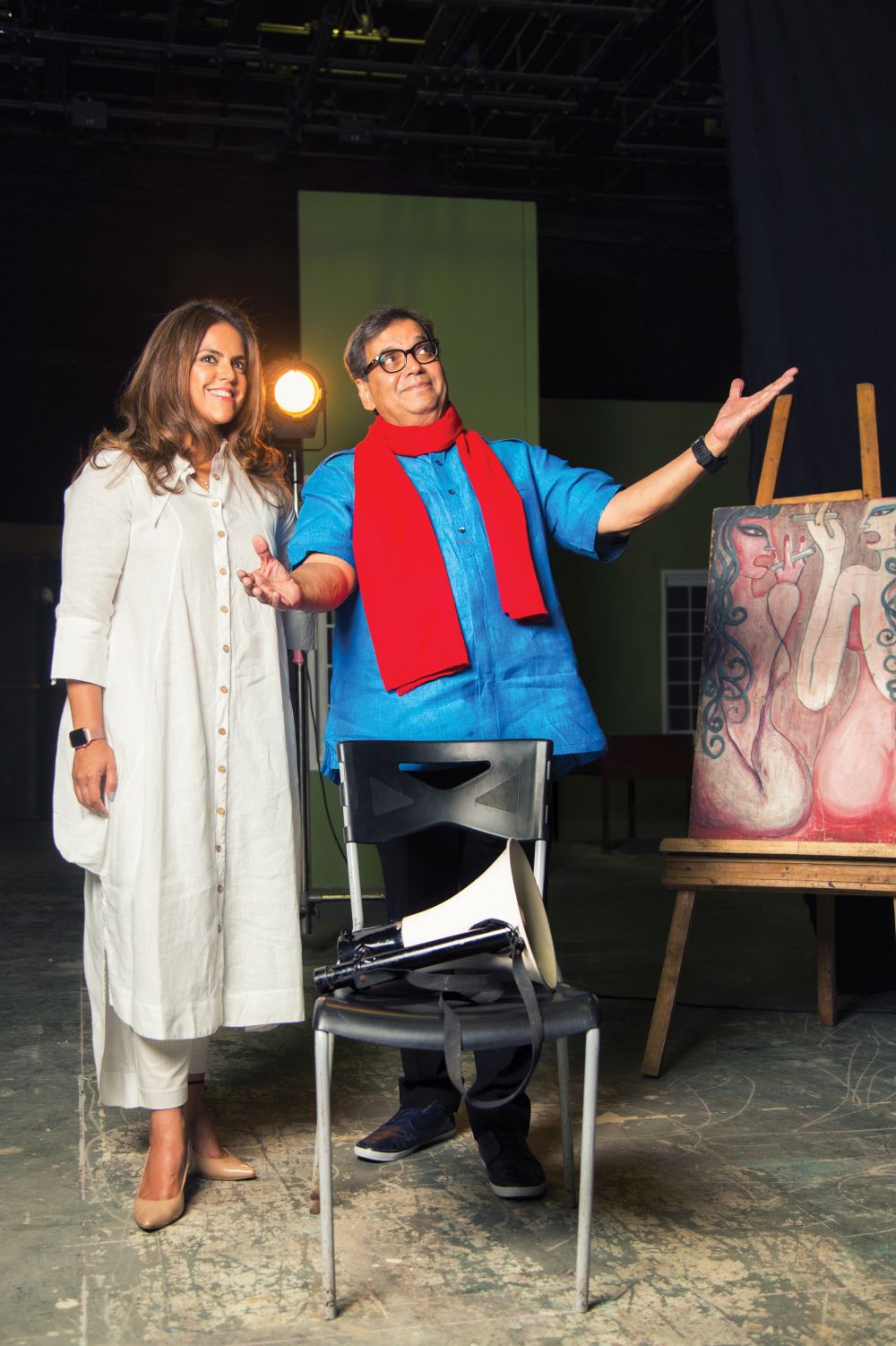 Ghai's production house Mukta Arts has been an integral part of India's reel revolution. From ensuring the film industry gets an official industry status to being the first Indian film company to launch an IPO at the BSE and introducing film insurance – he has several firsts to his credit.
As a person who has seen the Indian movie industry through four decades, Ghai is unequivocal about how professionalism has "taken away a lot of the magic of filmmaking." He says, earlier, mainstream films were truly "Indian" in essence. They were delicately-handled, entertainment-oriented movies teamed with catchy music and a message too. Now with the entry of studios, things are more professional.
Today, at the age of 73, he is on a perennial learning-and-sharing mode. He loves reading books and derives great strength from Osho and his discourses. As a people's person, he likes interacting with different people especially the younger generation who have so much to share. Ghai keenly passes on his knowledge by teaching at Whistling Woods International. In terms of real films, he's working on a subject and will be announcing his next project soon. There's no stopping Bollywood's greatest showman. As a filmmaker, he is going to be very, very active for the rest of his life, he tells us. And we are just too happy about it!
Personal Memo
Subhash Ghai
What is a day in your life like?
Like sunshine which makes me happy.
How do you prepare for important meetings?
Study the agenda beforehand of the parties I am going to meet, and leave the rest for the meeting.
Five interesting things in your office…
Space, smell, books, paintings and me Your ultimate holiday destination and why? Cannes film festival – all the fun while you learn.
What is your greatest indulgence?
Plotting movie stories and reading Osho.
What kind of music do you enjoy? Your favourite movie and song?
I like Chopin, the soundtrack of Amadeus and old Hindi songs like Aaja Sanam
Madhur Chandni Mein Hum.
What's your poison?
Black label
What kind of coffee or tea do you like?
Cappuccino
Favourite artists…
Jack Nichloson and Alia Bhatt
Favourite genre of films
Human relationship-based movies and musicals!
Any brands or designers you are fond of?
None! I made myself a brand… ha ha ha
Your ultimate watch would be?
Fit-bit
What cuisine do you enjoy the most?
Chinese!
What kind of books do you like?
Philosophies, ancient stories, Osho, Devdutt Patnaik, and Amish Tripathi
Your inspiration and role model?
Dilip Kumar and Swami Vivekananda
How would you like to be remembered after you're gone?
A good seeker and giver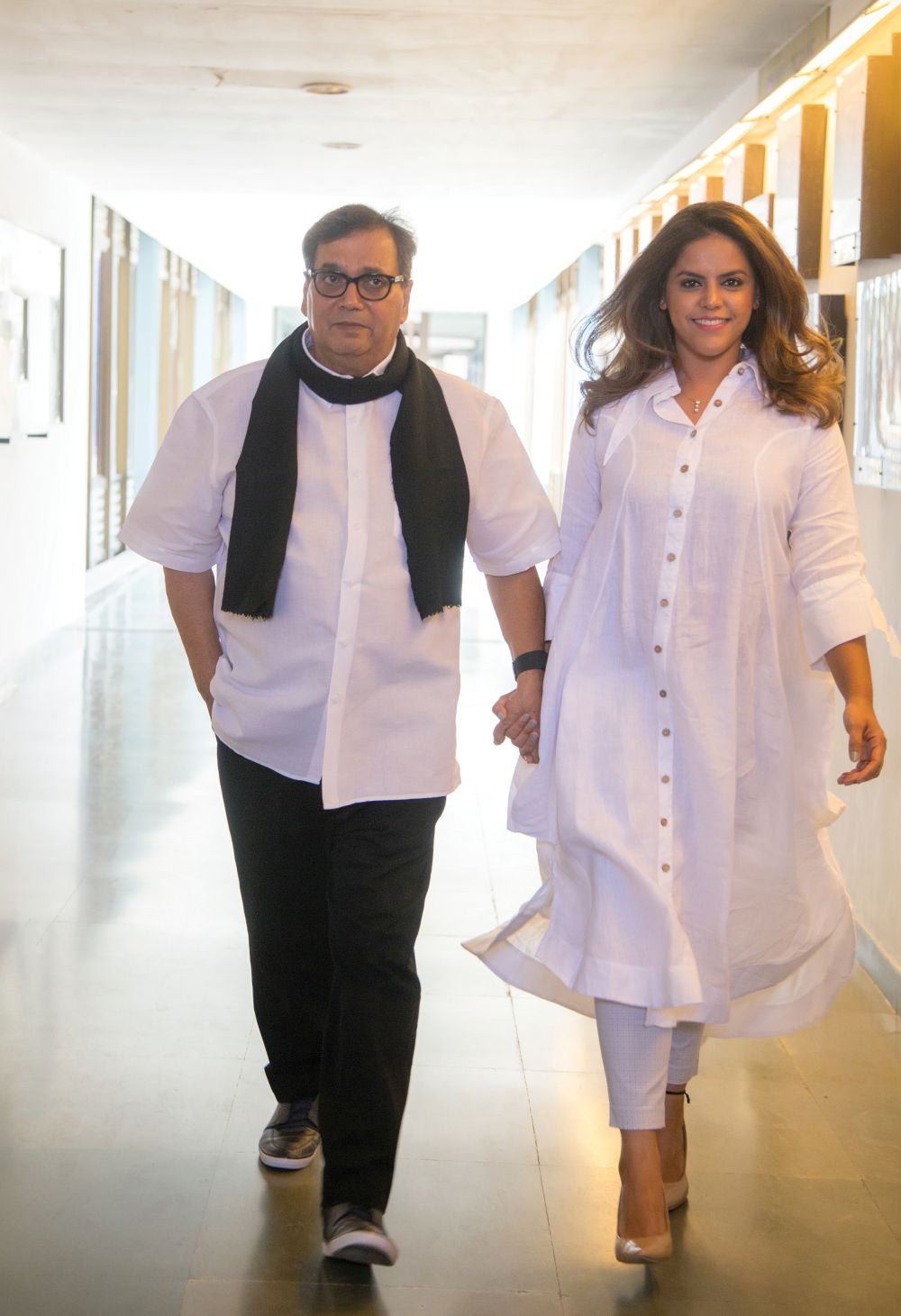 Meghna Ghai Puri
What is a day in your life like?
Besides being President of WWI, I am also a mother of two wonderful kids. They keep me on my toes and I am a hands-on mum. I wake up at 6 am to get them ready for school and then get dressed for work.
How do you prepare for important meetings?
I believe confidence is key to be successful in meetings. If you are sure of what you want and can confidently communicate that, you will always see success.
Five interesting things in your office…
A Buddha statue given to me by my dad, paintings of animals done by my kids, poems about me by my kids, photographs and my stationary
Your ultimate holiday destination and why?
London! While we travel a lot and love visiting new countries, London has too many fond memories for me and it really is my second home.
What is your greatest indulgence?
Chocolate
What kind of music do you enjoy? Your favourite movie and song?
I love listening to old Hindi music or English music from the 70s, 80s and 90s. My all-time favourite movie is Forrest Gump and Andaz Apna Apna.
What's your poison?
I don't drink. I am a teetotaler so it would have to be a Diet Coke.
What kind of coffee or tea do you like?
I only drink green tea
Favourite artists…
My childhood favourites – Bryan Adams, Alanis Morisette, and Kishore Kumar
Favourite genre of films
From superhero films to romcoms, I don't go for genres. I just like to be entertained and feel good after watching a film.
What cuisine do you enjoy the most? Any favourite dish?
I love Italian and Chinese food. My all-time favourite dish would have to be good Hyderabadi biryani
What kind of books do you like? Please name a few favourites.
I was never much of a reader. In the last few years I have started practicing Nichiren Buddhism and I'm reading a book on Buddhist philosophy written by my mentor Dr Daisaku Ikeda.
Your inspiration and role models?
My mother for her strength, patience and loving personality. And my father for his resilience, sense of duty and compassion for work and life.
How would you like to be remembered after you're gone?
I would like to be remembered as a person who lived and worked for the happiness of others!
This interview exclusively appeared in the February 2018 issue of the CEO India Magazine. Please drop a mail to reynold@ceolounge.net to subscribe or click here for a digital copy.